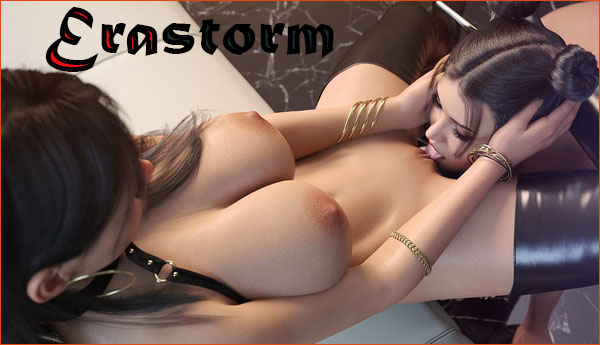 Erastorm – you just joined some friends on what was supposed to be a fun trip in Egypt. However, things turned sour and you got thrown into an epic adventure full of ancient mysteries and sexy girls.

Developer Notes
Gameplay:
This game Erastorm is an Adult Novel Story made with Renpy and Daz3D.
It contains many choices, routes, music, events. It is not a sandbox game and there are no grinding features either.
It is quite replayable as choices have strong impacts and therefore you will get different stories, romances, and endings.
Explanations on parameters :
Relationship points (0-100%) represents how close/in good terms, you are with the girl at that moment (it can increase and decrease quite quickly)
Romance level (0-10) can only increase 1 by 1 and represents how romantically involved you are with the girl in the story. Recommended when you want to dedicate yourself to one main girl.
Lust level (0-10) can only increase 1 by 1 and represents how sexually involved you are with the girl in the story. Recommended when you want to fool around.
Romance related matters:
no harem ending. You can try to date multiple girls, but girls will mind it most of the time
no NTR with the girl you decide to romance (except Netori with one of the LI)
the girls you decide to not romance (ie. low score), can have their own story progression and romance
scenes can go from very romantic to very wild.
Changelog
SnowStorm v0.5 Bloody Bears
This update has the BB tag as it mainly contains Bloody Bears content. However, it has almost the double amount of content of the previous updates (usually between 300/400 renders and 3000/4000 lines). Instead of providing quite little content for each clan at each update, from now on, one clan will be the main focus during each update, allowing to further develop the relationships and the drama of that clan to provide a more complete play-through. DR update will follow soon, and WW just after. (The order was decided for story purposes, to reveal the mysteries gradually without spoiling too much what is happening in the other clans). Even if BB is not your favorite playthrough, it is recommended to have a look at it as it is pretty interesting for the whole story.
6000+ lines of code/script
600+ new renders
20+ new songs
10+ sex animations
5 complete sex scenes with 4 different girls (Candrid, Helga, Sonja, Yrsa)
5 temporary endings in this update (1 for WW, 1 for DR, 3 for BB)
Previous content have been through an editor/proofreader and the writing should feel better
SnowStorm v0.4.5
This version features a quite heavy rework of the gameplay and relations with the girls according to your clan. The goal is to make the game a bit easier, the stories with the side girls a bit deeper and linked to the main story, and the playthrough with each clan even more unique. While old saves might work, they will not be optimized and might lead to uncomplete content. It is strongly advised to restart a playthrough from the start of the second chapter (at the midsummer festival for example, or just before the week 2 of quests).
The way side quests are working has been changed :
– You will have as many quests as available days, so you won't miss any quests by lack of time.
– The side quests will now work in the same way than the main girls events (Astrja, Nox, Candrid). It means that they won't be repeatable anymore if you fail them. Whether you succeed or fail to get the affinity point during that quest, you will advance to the next one. However with less affinity, you will probably miss the most romantic/lewd parts of the next event and at some point of the game, you might not be able to proceed further with her anymore, or get access to their "offer".
– If you don't get some quests it's because they are not available for your clan or because you didn't raise your affinity high enough with that girl.
The number of girls you can encounter has been restricted :
– When you are part of the White Wolves, you can also interact with Sonja and Lizgard.
– When you are part of the Dark Ravens, you can also interact with Astrid and Yrsa.
– When you are part of the Bloody Bears, you can also interact with Katja and Mathilda.
The stats management is simplified and won't depend of girls picks anymore :
– The stats you can get with each clan will be a bit more predictable and mostly depends on your clan. WW is mostly INT/STR oriented, BB is mostly DEX/STR oriented, DR is mostly INT/DEX oriented. Do not worry about lacking a stat, there will be always alternatives to progress further.
– The stats give little cool bonus to reward the players that enjoy looking for secrets and easter eggs, but they don't change anything to the story. Players who don't care about those can totally ignore them, but you have to accept to not get 100% of the secrets.
– Some sudden "ability tests" have been replaced by choices menus that are selectable or not depending on your stats. You'll know how many points are required.
– The money management is now adjusted and fully operational.
You can now imput a name to your saves
– On the saving screen, you will notice an imput prompt on the top left, you can indicate a name for your save and then click on one of the slots like usual. You can also ignore and save without a name.
Adjusted and new content :
– Adjusted Milka's event in the BB path
– New event for Sonja (Arm wrestling) in the BB path
– New event for Katja (Mysterious hunting) in the BB path
– New event for Mathilda (Archery training) in the BB path
– Adjusted Yrsa's Haunted Ruins event in the DR path
– Adjusted Astrid's Market event in the DR path
– Adjusted Milka's event in the DR path
– New event for Katja (Mysterious hunting) in the DR path
– New event for Sonja (Contest with Astrja) in the WW path
– New event for Mathilda (Archery training) in the WW path
– New event for Lizgard (The shy & sexy tactic) in the WW path
– Adjusted Milka's event in the WW path
– Unlockable bonus scene for Fate (in-game & treasure chest)
– There will be 2 daily events to do between the burial and the raid departure.
– Adjusted the interactions you get during the raid preparations according to your clan.
– Changed the affinity results after the raid to show only the girls for whom you could have gotten affinity with, depending on your clan
– Adjusted the gameplay for Fate's scene during the raid with another way to save her by not chasing her.
– Few new scenes after the raid, to Introduce the chapter 5, mostly with the girls that were not in the raid.
EraStorm Saga 1: SandStorm v2.0
Complete version of EraStorm SandStorm including all the bonus content that were made during the lifetime of the game, some new content, and an interesting new ending. The gameplay has been simplified for better control of the story, and the dialogues should be more pleasant to read as the game went through a complete proofreading. The interface has been reworked to be more practical. Thanks again to all the helpers.
Gameplay rework:
Added an NTR filter switch at the start of the game to disable the options that can lead to such contents
For each ending (except the bad ones), you will receive a mark (xx/20) to rate how well you completed that path
You well get a hint to know it the ending you reached will lead to a sequel or not.
Lust & Romance points have merged to become Relationship points and the Mood/Affinity (%) has been reworked for an easier control of your story.
The evil points are replaced by mystical points and those will be visible in the stats interface for easier control of your playthrough
Removed the hidden "Rionora" variable. To enter this path now, you just need to maintain a good relationship with both girls.
The triggers for the night event in the Oasis have been reworked. This event's outcome will mostly decide your paths later on.
When pursuing Nora, if you're in her path, you will share Rion's quad and not Maddie's quad anymore. The possibility to switch from Nora to Maddie has been removed as it didn't work out well.
The Rion&Nora endings can now also be reached from Nora's path
Two endings are now available for Rion&Nora depending on whether you gave the stone to Maddie or not
Forcing Rion to do nasty stuff in the factory will now necessarily push you to the mystical path
Gui rework:
New main menu EraStorm
Transformed the Music / Gallery / Replay / Endings Rooms into a Tribute Room for each girl, which allows you to store and unlock all the important content of your favorite girl
Removed the vignettes with the heads to give more space to the text
Improved the GUI to give more visibility to the text
Improved the live stats screen to have better control of your playthrough
Improved the summary screen at each end of day, with a compass to indicate where you seem to be heading to
Art/Media rework:
Replaced ~100 renders for quality improvement, especially during the first part of the game
Added ~100 sliding HD renders to improve the art and the immersion of important scenes
Added ~200 new renders for the new scenes and endings
The long Ghajareya Bellydance movie clip with Nora has been transformed into an interactive scene
Replaced a dozen songs with even more suitable ones
Reorganization of the soundtrack, SFX sounds and music tracks are now linked to the proper audio channels
You can now click during the "auto-play" atmospheric scenes, to scroll through the images at a faster pace without skipping the scene.
Script rework:
A lot of grammar and spelling mistakes have been corrected. It went through a few proofreaders and editors, and you should feel a noticeable improvement on that aspect.
Many sentences have been rewritten in the few first scenes to reduce a bit the childish behavior of the characters at the start.
Rion's love story has been slightly reworked. A few alternative choices that didn't bring much to the story were removed. Rion is naturally cute and kinky, so she can make lust and romance work together.
Nora's love story has been significantly reworked to make it more plausible considering the context and the timeline. Her reaction toward mystical actions will be more consistent.
Maddie's love story was already pretty solid and lust/romance was not affecting much her path so it didn't need much rework but there are more content in the same playthrough due to the merge of lust and romance scenes.
The evil/mystical path has received several tweaks and is now more straightforward.
The dialogues on the bus, in the back of the truck, and on the quad are reworked accordingly.
New content in EraStorm Saga 1 SandStorm:
Reworked the jazz option in the jukebox which leads to a slow with Maddie (day 1)
Reworked the bellydance show of the Ghajareya troop
Added a funny/lewd scene with Maddie when visiting her room after Nora's night show when not enough points (day 2)
Completed the locker room lewd scene with College Maddie. (day 3)
Completed the romantic version of the dream scene with Nora swinging on her ring (day 3)
Completed the mystical version of the dream scene with Nora swinging on her ring (day 3)
Added a "mystical" scene with Nora in the Anubis temple (day 3)
Added a lesbian scene in the Oasis (day 3)
Completed the cumflation scene with Rion in the factory (day 4)
Completed the cumflation scene with Maddie in front of the gate (day 4)
Ending L (Rion) has been completed with a striptease scene
Ending S (Nora) has been completed with more lewd scenes and animations
Ending F (Maddie) has been completed with more hot/lewd scenes
Ending P (Rion&Nora) is a new ending which happens if no one opens the portal
v0.4.b
This update brings you into some epic and wild action, with a good progress on the main intrigue. It will mark the end of the chapter 4.
This version is still considered as a beta as the proofreading is not complete yet. That aside, it should be pretty functional.
300 new renders
3000 new lines
10 new tracks
5 affinity points can be earned (Astrja, Candrid, Katja, Mathilda, Sonja)
No affinity points but some nice/cute content with Astrid and Lizgard
Nox and Yrsa get low screen time on this update but their turn will come next.
v0.3.1
Completion of week 3 of gameplay, with several new events.
You can get an affinity point with Astrid, Mathilda, Katja, Lizgard, Nox, Yrsa, Sonja
450 new renders (total 2350)
4500 new lines (total 21800)
20 new tracks (total 110)
6 new lewd scenes
6 new secrets (total 30)
Bugfix
EraStorm Episode 2 SnowStorm v0.2.5
This update adds pretty distinctive story content for each clan
Two in-game days of gameplay, featuring almost all the casting.
You can earn an affinity point with Astrja, Candrid and Katja
350 new renders (total 1900)
4000 new lines (total 17300)
15 new tracks
Few hot scenes
3 new secrets
Treasure room and replay room updated
Changed the OldNorse font to one that is a bit easier to read
EraStorm Episode 1 SandStorm v1.0 (completed)
This update completes all endings of the game and represents the first version of the completed game.
Each girl has one story ending, and one special ending.
There are also 2 bad endings, 2 evil endings, and 1 threesome ending.
Contents in regards to v0.9
11 endings
6500 lines of code (total 38500)
750 renders (total 4750)
35 animations (total 140)
22 sex scenes
10 tracks (total 160)
1 new menu: endings collection room
Changed GUI for the choice menu
Release date: 2023-10-27
Genre: 3dcg, anal sex, animated, big ass, big tits, creampie, interracial, male domination, male protagonist, milf, multiple endings, ntr, oral sex, vaginal sex
Censorship: No
Developer / Publisher: GleenX Studio
Platform: Windows, Linux, Android
Version: Episode 1 SandStorm v.2.01 completed + Walkthrough / Episode 2 SnowStorm v.0.5BB
Language: English
Size: 3.59 GB / 4.23 GB
Download Keep2Share
Download Turbobit
Download Hitfile