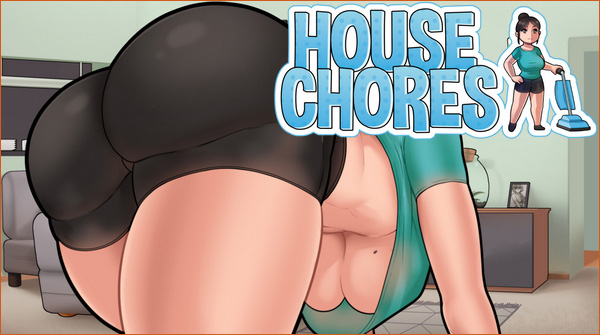 House Chores is a visual novel where you experience the story of a young man on his summer vacation. Problems arise when he begins to see someone close to him in a much different manner. To make matters worse, two unexpected guests barge in and complicate this messy summer even further! Can you score it big during your summer vacation? Or will you start the school year empty handed?

Changelog
v0.15.1
New Scenes:
Linda Bath Sex
Linda Chair Sex (+Kissing Variation)
Linda Bed Sex (Ride/Mating Press Variations)
Fixed bug where you could access new Linda on-screen scenes slightly earlier than intended
v0.15 Beta
The 'close-call' updates continue now featuring Linda as she tries to hide her romantic relationship with the main character from the house!
However, Julie just so happens to always be nearby. Surely she's not catching on, right?!
The new content in this update continues directly off of Linda's storyline. After completing the recent events in her casual outfit, you will need to make sure she's dressed back in her regular outfit and continue talking to her! The new events should continue automatically.
Additionally, after reaching a certain point in the new story events, Linda will become increasingly horny and new activities will unlock. These new activities feature a few different variations so be sure to experiment and see just how far your endurance can last!
v0.14.2
New Scenes:
Emily Laundry Stuck
Emily Couch Sneaky Sex
0.14 continues Emily's storyline with some very sneaky behavior!
After completing the events of her main storyline, talking to her will continue into the new Beta 0.14 events. If you're not sure where to continue, be sure to listen to the dialogue carefully and when traveling across the house, you might
run into some surprises 😉
This update is the first update leading to future 'group' activities so stay tuned for more sneaky events. With everyone
becoming increasingly more bold, someone's bound to get caught soon!
On-Screen Scene Zoom
A new feature to on-screen scenes is being tested in this update as well with the new Emily Laundry scene.
The ability to zoom in and out of on-screen scenes adds a little more immersion and visual 'clarity' to those special moments.
In the next few updates, I plan to go back and update most/all of the other on-screen scenes to have this same functionality.
-Added zoom feature to Linda Kitchen Sex scene as well as additional dialogue/audio
-Fixed bug where Admire Ass event wasn't working in Kitchen (all is right in the world again!)
-Fixed bug where one of Emily's cutscenes would incorrectly replay every time you entered the location
v0.13
New Costume:
Emily Bunny Outfit
New Scenes:
Emily Bunny Sex
New Room:
Emily's Room (Spring Theme)
New Content:
Spring has arrived in House Chores with Beta 0.13!
Emily's feeling the spring fever and needs your help to make that magic come alive! When a magic egg appears on her bed one day, that's only the start of a strange and mysterious set of events. What could be causing this seasonal shift? Perhaps some mysteries can only be explained by magic!
In order to access the new event, you need to complete Emily's story by witnessing her first 'home run' scene. From there, during the Morning/Day/Evening time slots, you'll find an automatic event in the Hallway to begin the new event.
The spring event consists of finding 3 hidden easter eggs around the house! Keep your eyes peeled because some of them might blend in a little bit.
v0.12.3
Julie now moves to the kitchen (during Morning) AFTER the couples yoga scene
Fixes several issues related to the original timing
Made a number of changes to dialogue & notifications at different points of her story for added clarity
v0.12.2
New Costume:
Julie Dress (unlocked naturally during her storyline)
New Scenes:
Julie Date Night Car Sex
New On-Screen Scenes:
Julie BJ
Julie Kitchen Sex
New Room:
Dining Room (Date Night)
New Content:
Beta 0.12 introduces a romantic date night with Julie!
After a spontaneous idea leads to spontaneous disaster, it's up to you to cheer Julie up and sweep her off her feet!
This new content is accessed as part of Julie's main storyline. So after reaching your first 'home run' scene with her,
the conversation will gradually move to the new content.
The on-screen scenes are bonus unlockables after completing Julie's first 'home run' scene as well. These can be accessed
during different times of day depending on where Julie is.
Lastly, Julie's location in the morning has been updated slightly. After your relationship progresses past a certain point,
she will finally emerge from her slumber and can be spotted grabbing a breakfast snack!
-Fixed issue where Julie wouldn't return back to the kitchen the next day after selecting 'private show'
-Fixed two areas in Julie's storyline that could cause sequence breaking & dialogue not matching up with current progress
-Fixes bug where you can view a cutscene with her in the hallway way too early
v0.11.1
New Costume:
Linda Casual (unlocked naturally during her storyline)
New Scenes:
Linda Laundry Room Sex
Updated Scenes/Art (Costume Swap):
Linda Blowjob
Linda Living Room Quickie Sex
Linda Bending Over CG
New Room:
Laundry Room
-Fixed Linda Video game interaction to accurately change based on costume choice
-(I'm aware the 'special interaction' is the original outfit. This will likely get updated in a future build)
v0.10 Beta
Beta 0.10 is here and provides a proper conclusion to Emily's (solo) storyline! This update picks up where her last update left off so continue interacting with her to see what new ideas she has cooking up in that creative mind of hers!
I had a lot of fun with this update. Emily's story wound up being quite different from how I originally envisioned it but I'm very happy with the end result. The idea to use the RPG Maker engine to explore her creativity I think adds a bit of fun humor to the story and helps spice things up a bit from the usual.
Keep in mind, this update is partially incomplete but I wanted to go ahead and publish the game now. In the next day or two, I'll release Beta 0.10.1 which will add the ability to replay her scenes in just the regular (non fantasy) variations with custom dialogue. So be on the lookout for that announcement!
v0.9
Major Scenes Added:
Julie TV Cuddling
Julie TV BJ
Julie Bedroom Sex (3 variations)
New Content:
House Chores Beta 0.9 is the conclusion to Julie's main solo story!
In this update, Julie begins to let her guard down and show a slightly more vulnerable side as your relationship progresses!
When and how will you respond to Julie's advances? While subtle, those choices will affect how and where events take place
around the house!
v0.8
Major Scenes Added:
Emily Footjob (Dark Queen Cosplay) (Regular Outfit version coming soon!)
On-Screen Scenes Added:
Linda Shower Sex
New CG:
Emily Breast Tease
New Location:
Dining Room
New Content:
House Chores Beta 0.8 is the long awaited introduction of Emily's storyline!
Home from her first year of college, Emily longs to return to a comfortable setting. While the two of you certainly fight
'like' Brother & Sister, your shared hobbies are where you might find some interesting situations occurring this summer!
Additionally, Linda has a small addition to her available options in the bathroom. The new On-Screen scene is viewable after
having had your first 'home-run' scene with her!
I hope you all enjoy this little holiday moment and I hope you all have a Happy Holidays!
Release date: 2023-10-02
Genre: 2DCG, Male protagonist, Incest, Animated, Big ass, Big tits, Milf, Handjob, Oral sex, Groping, Vaginal sex, Voyeurism, Titfuck
Censorship: No
Developer / Publisher: Siren's Domain
Other Games: Zombie's Retreat, Town of Passion
Platform: Windows, Android
Version: 0.15.1 Patreon
Language: English
Size: 1.12 GB
Download Keep2Share
Download Turbobit
Download Hitfile