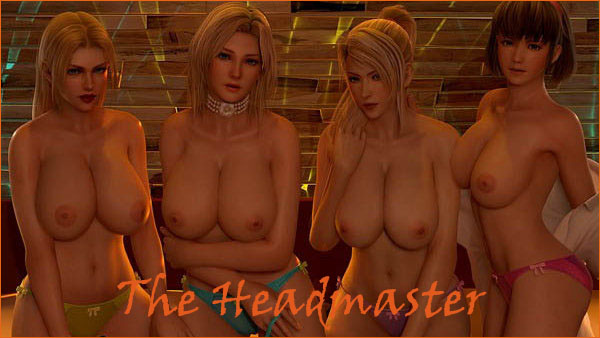 The Headmaster – in the near future, in a small island country, a crisis arose. The number of high school graduates has fallen sharply and university places remain unfilled. Faced with the prospect of massive unemployment and potential economic disaster, the government is forced to take urgent action. All students over the age of eighteen who have failed or been expelled from school must be forcibly returned to school in a number of special institutions. Our hero becomes the director of one of these institutions. Using your unique disciplinary methods, you must transform an entire school of young women offenders into hardworking and obedient students.

Changelog
v0.14.3 Patreon release
new content is:
Ada's punishment in front of the school board is now repeatable
Updated Ada's hallway conversation for after the uniform changes
Updated Maxine's patrol event for after the fundraiser (including repeatable group blowjob)
v0.14.1 Beta
Content Changelog:
New Main Quest: "Who's Pulling Mykock?"
New Student Quest: "Pride and President."
New uniform rule: Charity Exemptions
Added Maxine's fundraiser: a (50K word, 1000 render, 40 video) mega event spanning an entire in-game week, featuring nearly all the students
New public punishment: The minimal uniform
One new repeatable patrol event (careless flasher)
Updated Maxine and Lucy's locker room event for after the fundraiser
Coding Changelog:
Major changes:
Easy Mode – stats and price adjustments
Named Saves and search for saves
Full rebuild of quests code – Including new alerts for quest and character log updates
Full rebuild of rules and proposals (to allow for horniness thresholds)
New online shop code, including SOLD OUT status (spoiler)
Redesign of the Chapter 2 patrol event distribution (to reduce grind and make event changes easier to find)
New methods for building the map and simplifying skip period/skip day code
Quality of life issues:
Tooltip for the spying bar
New alerts for inventory items available or added
Debbie's prefect badge added to her character card
Pornsight search bar easter egg
New protection for stat changes in replay
Updates to photo album on the PC including better support for looping through sets of images
Support for changing how certain characters address the HM in private (i.e. Claire, Lucy or Samantha)
Better support for displaying punishment reasons on the various whiteboards
Some new extras in the nurse's office from time to time
Hundreds of bug and continuity and typo/speaker fixes. Highlights:
Allow Amy level 5 punishment to be repeated if she didn't level up
Hiding Faye scenes when she's meant to be at the hospital
Allowing Maxine Gets A Whipping spy scene to start again the following night if not finished
Make Rachel less jealous in patrol scenes when she's been cured
Twin Swap spying scene Mary & Louise speaker swap fix
Got a bug fixed in Renpy itself to support rollback and avoid infinite loop crashes
Some patrol scenes adjust when seeing them a second time
The Golden Gun was restored to one image where it was purple
v0.13.2
One additional patrolling-the-halls event
Five new events when spying on the girl's dorms shower
Added Debbie's Halloween to the replay menu (unlock by clinking on the staff training option in the afterschool punishment menu)
Added butt job animation for Rachel's after-punishment option
Added a new straddle spank orgasm animation
Added videos for the nipple licking action
Added teaser event for a new poll with Maxine
Completed the French translation of the new content (some minor parts still need finishing)
Added a black screen between video transitions using the red butt effect. This should prevent crashes some people reported when switching animations
v0.13.0
This update sees the conclusion to Rachel's storyline and punishment system where we raise her to level 10. There is also a significant amount of content for Miss Newman as we introduce her to the headmaster's most advanced disciplinary techniques. As well as adding several new actions to the punishment system we've also redone all of Rachel's punishment animations to bring them up to current standards and to add the red butt effect. The update contains around 40,000 words of dialogue, around 1000 new renders and over 300 video files.
Content changes
New student quest for Rachel (The Headmaster's Pet – Part 2) with several new events
Added dildo practice option when speaking with Rachel in the office
Added several new videos to the in-game porn website, plus added the option to watch porn with Rachel
Remade all of Rachel's punishment system animations and added the red butt effect
Rachel can naked for punishment (with her cat ears)
New punishment actions for Rachel (check bruises, dildo, anal dildo and sex)
Candid photos of the twins and secret selfies added to Ada's phone
New Character entry for "The Other Students"
New Patrol event featuring unnamed girls (lots more of these to come)
Major coding changes
A skip to chapter 2 option has been added
The stats bar now displays a description of what each statistic does when hovering over each icon
The game's economy has been completely overhauled. Several items and construction projects have reduced costs. The headmaster will also get raises from the school's owners after passing certain rules. A large bonus will be given when starting chapter 2.
The way the game's statistics are coded has been changed in order to pave the way for different game modes (e.g. easy mode, hard mode etc) as well as some other new gameplay features.
Discipline and grades have been "padded" to increase gains and reduce losses when close to losing the game.
When there is a new item, email or construction option available on the headmaster's computer, a star will display on the appropriate icon
Almost all of the games image buttons have been re-coded to remove unnecessary hover images
Almost all "baked-in" text has been removed to make translations easier
v0.12.1
By popular demand, Priti will be the main star of the update with her own storyline and punishment system. The other characters with significant content will be Charlotte and Harriet. Although there are also some big group punishment scenes featuring several other girls. As decided by a recent poll we'll also finally be getting unrestricted access to the girl's locker room.
v0.11 Beta
New student quest for Cassandra
Cassandra's punishment system now goes to level 5
Blowjobs from Cassandra at your apartment and at your office
A lesbian scene for Debbie and Cassandra
Added new spanking animation for Cassandra being punished in class
New extra service from Lucy (handjob)
v0.10 Beta
Four new repeatable sports events
Four football practice events
New scenes for Lucy
Lucy will now clean naked
Lucy will offer extra services (currently spanking, dancing and kiss)
Double spanking for the twins from HM and Claire
Public punishment for the twins
Poolside punishment for the twins
A spanking scene for Samantha or Arabella
Sex scene with Amy in the girls' locker room
Threesome with Rachel and Debbie
Body searches for: Emily, Alice, Priti
You can unlock the cafeteria (just a placeholder there for now but unlocking it will trigger new scenes)
Two new students (Jasmine and Arabella)
New lunch lady (Patricia)
0.9.2
Strip search for the twins
Strip search for Liz
Body search for Lucy
0.9.1 beta
Introduction scene for chapter 2
Five new/updated patrolling-the-halls events.
One new and four updated weekend patrol events
Three new repeatable class events (including spankings) for Priti, Liz, Faye
New classroom spanking from the headmaster for Rachel
New repeatable punishments in your office: Priti, Liz, Faye
New classroom punishment: Girls can be made to sit through class topless (implemented for Rachel, Cassandra, Faye, Priti and Liz)
New Friday quiz, where you can pick which girl to punish
Girls can now be made to clean the school grounds in their underwear.
New headmasters privilege rule: Can give a body search to anyone on campus
A scene for Maxine in your office
A scene for Miss Chang at her apartment
Sex ed lesson from the nurse
Swimming pool added.
New student: Olivia.
You can spend time in your office watching porn
You can watch TV with the girls on Sunday evening
Strip search for Nina
Spanking and Tit job scene for Alice
BJ scene with Sally
Sex scene with Miss Swallows
Spanking and masturbation scene with Sally and Liz
0.8.2
New scene for when you lose because grades hit zero
New repeatable scene for Rachel in your office after she gets a promotion
New scene in class for Rachel
Lucy will now clean your apartment topless
New scene when spying on Lucy changing in your apartment
The Headmaster 0.8 Beta
Three new scenes for the English teacher, Claire
Rachel can now go up to level 7
New punishment action for Rachel
Several new scenes for Rachel
Part 2 of the Dungeons and Dragons event
Punishment system implemented for Cassandra (only to level 2)
New spying scene for Cassandra
v0.7.1 Beta
A missing frame of an animation when Amy was getting paddled by the mc without her underwear causing a crash
A crash for some people in the sex scene for Amy
The spying event for Maxine not showing as complete in the replay menu
A crash when taking Amy's picture
Amy can now be summoned to your office for punishment after level 5
The Headmaster v0.7 Beta
Punishment system implemented for Amy
New quest-line for Amy with several new scenes – Follow her Quest-log
New spying scene for Debbie and Maxine (visit Rachel's room when prompted to)
Movie night scene at the dorms on a Friday evening
D&D game at dorms on Sunday afternoon
Scenes for Amy and Donna at the lake on Saturday afternoon
A scene for Emily at the lake on Sunday Morning
New scene for Lucy at your Apartment
Cheats
There is a cheat menu built into the replay screen.
On the school map screen, top right, you can see the replay button.
Now you should be able to see a red button saying, don't press me!
Press it three times to see the cheat menu.
Release date: 2023-05-13
Genre: 3DCG, Animated, Corruption, Male Domination, Sex Toys, Oral Sex, Masturbation, Lesbian, Groping, Voyeurism, Male protagonist, School setting, BDSM, Spanking, Humiliation, Vaginal Sex, Anal Sex, Handjob
Censorship: No
Developer / Publisher: Altos and Herdone
Platform: Windows, Linux, Android
Version: 0.14.3 + Walkthrough
Language: English
Size: 6.21 GB
Download Keep2Share
Download Turbobit
Download Hitfile