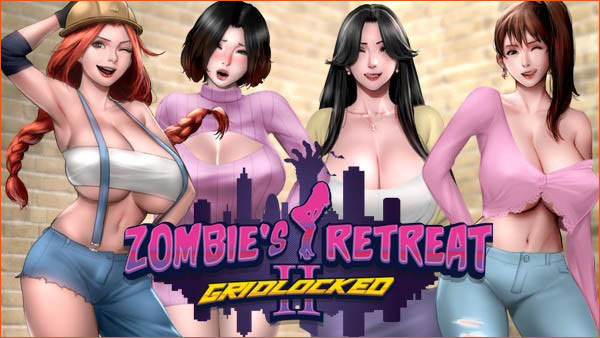 "Welcome to Crimson City! A city known for it's diverse districts, cutting edge technology, and promising citizens. However, everyone has their own dark secrets to hide. When a strange zombie outbreak occurs, it's up to one hero to save the beautiful women remaining and put a stop to this horrible mystery plaguing his home." Zombie's Retreat 2: Gridlocked is an action RPG involving a young 18yo adult caught up in a horrible incident. Taking place shortly after the events of Zombie's Retreat 1, our hero will learn more about the true mysteries involving the zombie outbreak while rebuilding his own district: The Grid. Fight zombies, construct your own home base, and most importantly, 'bond' with your beautiful survivors!

Changelog
v0.14.4
Scenes Added:
Fiona Upside Down BJ
Fiona Oral/Sex (Workshop/Subway)
Photo Added:
Fiona Subway Sex
Content Update:
0.14 introduces a sidequest storyline for Fiona, the bombshell queen of construction!
In order to begin her new storyline content, you will need to have first completed her main story quest involving opening up the East Subway Tunnel. It's available pretty early on in the game so you don't need to progress far!
Fiona is always working on new ways to help give you more scavenging opportunities so perhaps she has some fun ideas in mind this time. You'll have to talk to her yourself to find out!
The Grid Expansions:
Gardens
Gardens have received an overhaul in how they function. Every 3 days, your garden will be automatically harvested overnight. In order to increase the yield, you can spend 1 water to hydrate the garden. Rainy days will automatically water it for that day as well!
Center Plot & Relocating
The central plot to the left of the house can now be selected when building. Additionally, interacting with a plot that has a construction will give you the option to move/swap it to a new location for added customization
Planter Customization
The ability to customize the garden planters has been added. After meeting the initial construction requirements, you can interact with them to change their appearance as you like.
v0.13
Scenes Added:
Meredith Queen Sex
Leslie Queen Sex
Photo Added:
Queen of Passion & Lust
Content Update:
Beta 0.13 is a short but sweet update adding a special event for Meredith for winning the second Character Showdown tournament!
Leslie, the winner of the first tournament, also received a special scene that is viewable in ZR1 as well as ZR2.
In order to access the new event, there is a temporary NPC just below the starting house that will take you to the new
content. In the future, this costume will need to be unlocked and accessed differently once proper implementation of events
are finished.
Additionally, in a future update, you will be able to have Meredith change into this new outfit for regular use around
the Grid!
Thank you all so much for playing Zombie's Retreat 2!
v0.12.3a
-Update to Nadia's story
-Upgrades to The Grid
-Fixed bug where re-watching Nadia HJ caused sequence issues in her story
-Updated audio for Nadia (Delalicious VA)
-Added audio for Violet (Delalicious VA)
-Added bonus sex scene with Nadia in her old apartment. Uses same scene but with new dialogue
-Small misc changes
-Fix to bug that softlocked character
v0.11.1
Costumes Added:
Olivia Nude
Scenes Added:
Olivia Blowjob
Olivia Sex
Scenes Updated:
Olivia & MC Hiding (Sex Variation unlocks after story completion)
CG Added:
Olivia & MC Making Out
Photo Added:
Olivia Sex
Content Update:
Beta 0.11 adds the conclusion to Olivia's main storyline in Zombie's Retreat 2! As curiosity grows around her shady
stalker and her missing panties, she asks you to help investigate and get to the bottom of this mystery.
In addition to Olivia's story, this update features a few old mechanics getting small improvements to help improve the
overall Quality of Life for ZR2. Expect more changes, improvements, and additions as updates continue on.
Fishing Revamp
Fishing has been adjusted in this update. A new fishing point has been added as well as the chance to find rare/junk items.
Fishing points now can be exhausted but every new day they will refresh back to their 'max' fishing capacity.
Some of Stacy's milkshake's effects now also apply to fishing!
Rare/Junk items are primarily meant to be sold/traded to vendors. But in the future, some questlines may require
some of these items. While money doesn't have much use quite yet, it will be essential for bonus events, and other items.
Brick & Metal Harvesting
A new crafting item is included with your crafting guide. The Heavy Hammer is a breakable tool that can harvest brick from
new brick piles laying around the city. This should allow for a less RNG-dependent way to gather brick for buildings.
Brick isn't used much currently, but in the future it will be a key resource for buildings in The Grid.
The metal-cutting saw is also now dual purpose! It can still cut holes through fences to progress, but there are also
metal deposits around the city. These are a bit more rare and take longer to replenish, but should be very worthwhile!
Other Changes:
-Added option to skip Day 1 tutorial
-Fruit Salad is now craftable from Stacy's Diner
-Increases the rewards from harvesting wood/brick/metal
-Frozen Latte's effects apply to scavenging wood & brick as well as fishing
-It's overall speed increase has been drastically improved
-Regular scavenge spot speed slightly faster in general
-Added Stacy Sweets Stash in Crimson City High & Tidy Room in Crimson Apts (more will still be added with new maps)
-Added new wood scavenging point in front of Crimson City High
0.10.3
-Fixed bug where Fiona cutscene was hardlocking on Day 2
0.10.2
-Fixed small cutscene-related bugs
-Fixed issue with Fiona's quest not marking as complete
-Added some small hints to the Strange Orb / Tombstone interactions for more clarity
0.10.1
-Fixed audio issue (Android only)
-Fixed some typos and collision errors
-Added Quest Log support for the new Halloween content
0.10
Costumes Added:
Meredith Witch Outfit
Fiona Halloween Outfit
Scenes Added:
Meredith Witch Sex
Fiona Halloween Sex
Photo Added:
Meredith & Fiona Halloween (unlocks upon full completion of Halloween event)
Content Update
Beta 0.10 introduces the first holiday event for Zombie's Retreat 2, starting with Halloween!
A spooky new district has been discovered in Crimson City and upon visiting, you run into some familiar faces with special
new outfits. What could Meredith and Fiona have planned for the night? Whatever it is, it's sure to keep you busy trying
to please them both!
To experience this event, there is a temporary NPC just below your house who will take you to the event. In a future update
accessing the event will be handled in an entirely different manner so expect this to change.
Happy Halloween!
0.9.2
-General bug fixes/typos
-Slight dialogue change if you complete new quest before unlocking Subway system
-Added cheat for infinite ammo on easy/cheat mode
-Added new vendor in The Underground
-Sells Stacy Sweets ingredients if you've unlocked Stacy's Sweets Stashes
-Added a couple 1-time resource drops in Hospital 2F
0.9.1
-Fixed gallery
-Old plugin just… stopped working >_> Migrated to a new one so save files will auto update in The Grid to re-unlock
old pictures
-Fixed issue where you could re-attempt Violet Cup and break game
-Fixed issue where MC was standing in wrong place during a cutscene
-Fixed map issues including getting stuck when returning to The Underground by subway
-Affected save files should be free to move now
-Fixed a few typos
-Made a few tweaks to dialogue in various locations
-Violet's scene, a few Lucy cutscenes, etc
0.9
Busts Added:
Violet
Michelle
Misty
Scenes Added:
Violet Handjob
Photo Added:
Jenny Cumshot (Unlocks from Jenny Night sex scene)
Content Update
Beta 0.9 focuses on the story of Crimson City with the addition of The Underground – a shadowy district full of dirty secrets
and surprises!
To experience this continuation, you'll need to have progressed far enough in the game to meet Lucy. Her questline is where
the main story progresses from so continue to interact with her and learn more about the mysteries that lurk in the city!
The Underground
The new district, The Underground, serves as another peaceful hub for new activities. Here, you are able to buy/sell certain
resources which should help cover up for some shortages you may be having!
Additionally, The Colosseum is a new location within The Underground that should serve for a lot of really fun ideas later
towards the end of the game or even in the post game. Various boss fights including super boss fights are some of the things
planned for this area to provide challenges intended for those who are willing to attempt it!
Story/events in The Underground will likely expand in future updates as well
Michelle
After being teased nearly a year ago, Michelle is finally able to be recruited in ZR2! As of Beta 0.9, she doesn't have any
story content just yet but her time to shine will be here before you know it!
In the meantime, she's awfully stressed. Given the current circumstances, it seems reasonable. But maybe there's something
or someone who's really driving up that anxiety.
v0.8.1 Beta
This update adds NSFW content to two characters: Jenny & Meredith! Meredith receives a small new questline after her main story is complete while Jenny receives a proper conclusion to her main story!
The NW corner of the West District has received some modifications. These new areas are very important for the new quests in Beta 0.8 as well as some upcoming content.
Difficulty options are now available with a choice of Easy or Normal mode! (Hardcore will come at a later date.) Transferred save files will be asked to choose their difficulty the first time you enter The Grid.
Easy mode also has the ability to activate Cheat mode. The journal in your bedroom will have the ability to toggle invincibility mode & no water/food demands. However, this will label your save file as "Cheat" as a small repercussion.
I'm hoping these changes add a bit more accessibility for those who enjoy the world of ZR2 but don't necessarily want to struggle surviving in it.
0.7.2
-Fixed Day 1 issue with Fiona
-Fixed no paizuri option with Stacy
0.7.1
-Fixed collision issues
-Fixed lighting issue in Arcade
Beta 0.7
Scenes Added:
Stacy Paizuri (+ Whipped Topping)
Stacy Sex (Diner/Arcade)
Profile Scene Added:
Stacy Trip/Kiss
Photo Added:
Stacy Blowjob (Unlocks from Paizuri scene)
Content Update:
Beta 0.7 concludes the main portion of Stacy's story as well as adding a bunch of new QoL features & other activities!
Stacy's story continues from her early milkshake creating and heats up as she feels the need to return back to her previous
job for a short task. As usual, things can never be simple when a familiar threat appears!
Pictures/Camera:
The camera feature has been added to Zombie's Retreat 2, offering a new gallery that you can unlock pictures for as you
interact with the survivors of Crimson City!
To find the camera, you will need to trade with the new mysterious dealer who can now be found south of the Medical District.
Once obtained, the camera may snap a bonus picture during certain NSFW scenes offering a little more context and views to
existing scenes.
At the time of this update, only one picture exists but there will be many more added!
(Note: The gallery size can't be changed after a save is made. To compensate, the gallery holds 50 pictures… it is
highly unlikely I will hit 50 pictures by the end of ZR2)
Fast Travel/Bus Stops:
The bus stop system from Zombie's Retreat 1 makes a return now in Crimson City! Bus stops can be found in various areas of
the city and once unlocked, you can instantly travel between discovered bus stops with ease.
This will also mark the first time you can go to the East & West Districts in one scavenge session!
In a future update, a buildable bus stop will be added to The Grid so you can fast travel to even further points of the city
with ease.
v0.6.2
-Various typo fixes
-Increased Meredith Heart minigame requirements (from 4 hearts to 6)
-Future proofed to require more or less for various difficulty settings
-Added some repeat dialogue for Meredith BJ & Sex scenes
-Repeat BJ can lead into sex scene after story completion
v0.6.1
-Slight dialogue tweaks & event improvements
-Added a couple one-time loot items around the hospital map
-Map bug fixes
-Fixed looping error on Meredith BJ Repeat
-Fixed static image error on Meredith Sex Repeat
-Adjusted loot table rates (+water & +medicinal herb. slight -ammo & -materials)
-Fixed loot table giving wrong item in apartments
-Fixed sleeping MC duplicate (no he doesn't have a hidden twin brother, this is not lore lol)
-Replaced outdated water sprite in Fiona's crafting menu
-Fixed potential softlock with Stacy's starting quest
v0.6
Scenes Added:
Meredith BJ
Meredith Sex
CG Added:
Meredith Sleep (Nude)
Meredith Sleep (Aftermath)
Content Update
Zombie's Retreat 2: Gridlocked Beta 0.6 focuses almost entirely on concluding the main portion of Meredith's story! When the dangerous threats of Crimson
City become reality, it's important to remember those who push you to keep moving forward. I hope you enjoy the conclusion
to the first character story in ZR2! Meredith will continue to receive new events & scenes in future updates!
Additionally, the subway system has finally been implemented at a basic level. I plan to improve and tweak it over time
but this will be an important way for reaching some new districts in the future.
With the introduction of the subway system complete, the Hospital District is now accessible. This district will be
built upon in future updates as well so while it's a little empty now, that should change over time.
Other Misc Changes Zombie's Retreat 2: Gridlocked
-At this point, I forgot any changes or tweaks I may have made…
Release date: 2023-07-17
Genre: 2DCG, Adventure, Animated, Big ass, Big tits, Corruption, Groping, Incest, Male protagonist, MILF, Teasing, Voyeurism, Handjob, Titfuck, Oral sex, Vaginal sex
Censorship: No
Developer / Publisher: Siren's Domain
Other Games: Zombie's Retreat, Town of Passion
Platform: Windows, Android
Version: 0.14.4 + Gallery Mod + Walkthrough
Language: English
Size: 1.12 GB
Download Keep2Share
Download Turbobit
Download Hitfile