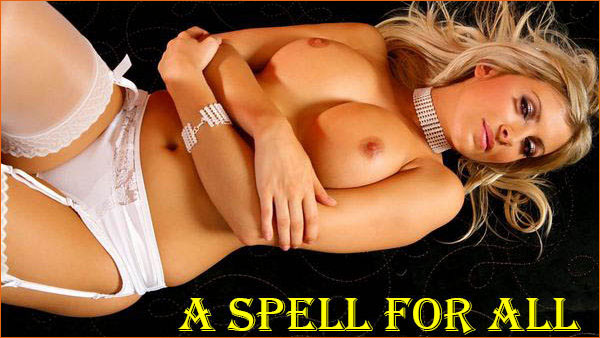 A Spell For All – In the past, a cult led by the sorcerer Kurndorf used the Book of Control to manifest their dominance over the city of Glenvale. Kurndorf was killed and the cult disbanded. Since then, the legendary book has been lost, but you are determined to find and use it to help your family and other people, or to gain the spell power in the book.

Changelog
v14.14b
events freeing Jessica and then meeting Esmeralda had several image and dialogue problems. The painting was missing entirely
– a number of text issues in your bedroom and around Anita arriving but also for others
– image issues meeting Miss Logan at the Restaurant
– some incorrect "end of content" messages not removed when it was not
– lots and lots of typos
– small abbreviations and rearranges in the cheat menu
– fixed issues with servant Elian following you. Notably she cannot visit Jade with you now
– a missing stone when charming Bambi
– tennis court query not going away once asked until charmed for Bambi
– fixed several problems with Lilith following and seeming to get lost for a bit or unable to ask her to follow you
– fixes for pool scenes for Zali, Leigh, Ellie, Gabby (she does not have such scenes!).
– broken images for the 'Change' scene for Didi
added
– meetings with Lilith for Jade, Sir Ronald, Mom, Tracy
– only Lilith or Elian can follow you (they do not like each other)
– visit Dr Kay in her office at the Hospital with repeat sex scenes, and added oral scenes here and at the nurses office for her, reuses existing images currently
– image changes (no new images) for Lilith at home, just what is shown in places, and show her in the living room before the Elian events that can sort of exile her there
– Monique puzzle help for Sarah's riddles
– alterations of Elian's cleaning events, can now be in the kitchen too
– expanded sex scenes for lover Melanie and Zali (both), filling out the 'you fuck her' sort of scenes a bit and a few others.
v14.14
– New Character – Penelope, the school administrator. Talk to Principal Reagan after charming her.
– New Character – Heather, the school librarian. New library at school available from the start.
– New Character – Ursula, the private detective. Spend the night away from home after having met Sarah.
– Alison changes – Alternate way to charm Alison without knowing Shielded Charm with the use of another spell.
– Catherine – Now actually works as a nurse (friday late morning) and in admin (rest of week mornings). First aid scene if you are hurt at the sport fields, alternate to Tracy's version. Threesome with Mrs Granger post construction site meeting. Bondage play at Avernus club and can be with Mrs Granger. Threesome with Penelope, another with Heather. Multiple image changes and added new sexy sms images
– Catherine's Revenge – There are now a series of events for discussing Catherine's desire for revenge on Mr Beasley. The transform scenes now require and involve her. Some tweaks to post transform scenes for Miss Beasley, add extra sex scenes and image variations.
– Sarah and Lauren – Major changes for them on the apprentice path. All events are reset when loading an existing save. Events are a bit more reliable and there is no case where they become unavailable. Warning there is a major consequence if you charm Lauren in this path. It is easier but will cause permanent problems! Sarah cannot be charmed but she and Lauren can be romanced.
– New Player Avatar – forum user cell943 submitted a new female avatar, Peta Jensen
– Messages – Added more sexy sms images and alter randomness of selection to prevent the same one twice in a row. Altered a number of other SMS messages to appear at more reasonable times.
– Image Fixes – Fixed images for Madison/Aletta Ocean particularly with Zoey, Diane sms images.
– Bug Fixes – Some typos.
– Layout/Abbreviation – Some changes to abbreviate some text usually for static location descriptions
– Event Clarifications – small changes in events to clarify or alter minor progression. Some QOL changes like making some queries/options available at people's homes (Mayor and open/close museum for instance), Some notes tweaks.
– Image Additions – Angela home explicit sex images, pool explicit images for male player. More poledance images for Tess
– Pregnancy – End game pregnancy for Lilith.
14.13 Release
This is the release of version 14.13 for A Spell for All.
This update has had a few aims:
– improve the user interface and provide more hints. There are some early game pointers for using the user interface. There are popup notifications when a new location is available in the game. You can now text a person and ask where they are (or send a selfie)
– add more alternate models from the bologna mod. Also freed selecting models so some are no longer restricted by the choice of a US/UK setting. One alternate model for Victoria was made into a new character with similar content, but some new things. Similarly the alternate for Ellie can now be a new character
– completing (partially in some cases) content. You can bring a charmed Davy home, and you can rescue Seraphina and charm her. Some characters have alternate lover charms now. All female characters have pregnant endings (except Lilith, Keana)
– implementing submitted new content, for this release it is the school Principal Ms. Reagan by Mastram, and an expansion of the Cult of Flesh by feor.
Full Change Log:
Bug Fixes – Some image fixes, one for Zoey/Riley Reid. Dreams were disabled in some cases incorrectly.
Pregnancies – End game pregnancies for Officer Khan, Officer Batton, Mother Superior, Tina (not as a vampire), Lauren, Leanne, John Adams. Some existing edits replace with actual images of the models when pregnant (Jayden Jaymes, Riley Reid). Two edits courtesy of Wape (game Incubus City)
Alternate Models – Models from the bologna44 mod imported as alternates for
Ellie (Alix Lynx)
Tracy (Casey Calvert)
Carol (Summer Brielle)
Tina (Lana Rhoades)
Officer Khan (Capri Cavalli – note same model as Amy Ross)
Select on first visit, and the transform spell can be used to change the model later. Old saves default to the original model. Note: some other characters have had images restructured to allow these changes in future.
Extra Scenes/Images
Added SMS for Officer Batton
new pool scene for Tina
extra poledance images for Officer Khan
additional poledance image for Catherine.
Mother Superior has pool scenes, an extra pole-dance image and tit-fucking scenes when she has been transformed for larger breasts
Locale Models – Model choices for police officers, Nurses are no longer locked to UK/US locale. You can pick any if you do not mind the uniform disconnect for police especially.
Extra Charms – Louise and Mrs Robbins can now be charmed as a lover, as well/instead of the original slave charm. Both can be recharmed at a later time
UI (Inventory) – There is a new view for the inventory, a switchable right tab, now the default but you can use the old view via your phone apps. Additionally there is an additional compact view for the icon based view of items in your inventory
UI (Hints) – Early game hints shown with blinking arrows, can be disabled in your phone apps.
Notifications – When a new location is revealed a popup notification is shown as a reminder in case you missed the reference in the game.
Sending SMS's – You can now send a SMS to people asking simple queries like 'Where are you?' 'Send me a picture' not all people will reply
New Character – Leigh Parker, another bank teller, uses the model for Ellie you do not pick. Similar content (charm is different)
New Character – Principal Reagan (model Reagan Foxx) first met in the game introduction. Submitted by Mastram
New Character – Cherry (model Cherie Deville) runs a yoga studio/new age shop near Esmeralda's store.
New Items – Cherry sells some minor items, the dream catcher replaces the pink noise app. The diffuser guarantees a dream. Pyrites pendant is a small mana recharge per day and a minor protection (works for Elian as 0.5), Idol also a minor protection (also 0.5)
Hydromancy Change – Hydromancy needs you to know how to meditate. Cherry can teach you for a price (can be free)
Map changes – New places added to the map for future content and some minor tweaks and rearranges
New Male Avatar – New avatar, Ricky Spanish submitted by Mastram
Saving Seraphina – You can now save Sera from being a thrall, talk to Jade. You can after a time charm her
A few minor notes on the new content:
– when you send a SMS, any reply is temporary, it will go away when you close your SMS's. This greatly simplified coding here
– when looking for a cult member it is random who you find. You cannot select the person. All content for them is fairly generic
– you need to silver ring to charm Principal Reagan
– no end game pregnancies for non-humans, so here it is for Lilith and Keana. I may add one for Lilith in a later version as I have images now for the event.
– Seraphina's new content needs to have Legion defeated or gone
v14.12
This is the new release for 'A Spell for All' mainly this has concentrated on
– altering the modding system to be more flexible and allow multiple to be used in a given playthrough. Also image only mods
– changes to the image display system partly linked to the above but a more complete implementation of an image object
– porting models from the bologna44 mod into the game as alternatives. Also adding Kellie from the mod.
– adding a 'select model process'
– implementing a submitted new character
– merging a character from a mod posted at F95 a while ago
This version is compatible with old save games (still back to 14.8.4) and any characters with new models will default to the original choice
Change Log:
Select Models – at the start of the game you now have the option to select the models for characters with multiple choices. You can still leave this until you meet the characters during the game. The select dialog can also be accessed from the cheat menu
Explicit ratio – you can now select how often explicit images are shown, from 0, 80% or 100% of the time.
Bug Fixes – map quick run, Leanne moving issues, a missing image for Miss Beasley. An issue for the 'take the thrall' option possessing Mother Superior.
Pregnancies – End game pregnancy for Charlie, Kristin, Mrs Tanika (Diane and Katrina(real)), Ms. Titus and Gabby (not in the case of her being Mom's lover). Dual pregnancy edit for Victoria and Nella. Updated image for Becky Smith (Alanah Rae model)
Alternate Models – Models from the bologna44 mod imported as alternates for Donna, Kylie, Louise, Madison, Melissa, Mom, Mr Beasley (female extra bondage), Mrs Robbins, Ms. Jones and Esmeralda. Select on first visit, and the transform spell can be used to change the model later. Old saves default to the original model. Note: some other characters have had images restructured to allow these changes in future.
Alternate Models – Alternate model for Jade submitted by badbrad1369, Aiden Starr was submitted and is selected on first visit. Old saves default to the orignial model
New Scenes – Tit-fuck scene for Gina. Repeat BJ scenes for Becky Smith and Tit-fuck scene. Some extra image variations for Donna and Melissa. Pool scene for Mrs Tanika with explicit versions. New pool scene for Abby and additional poledancing image. Additional poledancing image for Tina Robbins and a tit-fuck scene (non-explicit). Extra image variations for Victoria. Light bondage play with Tess and pool sex image for males. Some images here are look-a-like models. Tess + Tracy threesome. More pool images for Ms. Jones.
New Character – Zali the lonely cat lady, a MILF submitted by badbrad1369. Two charm parths (slave, lover), available after transforming Miku. Model Zoey Taylor
New Character – Emma the barista at the cafe in the shopping district. Three paths (lover, bimbo, mistress), one has different scenes for male player and female player. Model Samantha Saint.
Ported Character – Kellie the student, ported from the bologna44 mod. Now available after charming Miss Logan. Two paths (slave and lover). Model Kylie Page/Bonnie Kinz. Includes scenes studying with her and Miss Logan, a visit to the new movie theatre. Different SMS messages for paths and other scenes.
Poledancing – You can call people from the club and ask them to dance. Most charmed people support this, a few do not. Includes adding new scenes for Gabby, Officer Khan, Officer Smith, and some that were not accessible or difficult to access before, notably nurses and Officer Batton. Explicit poledancing scenes for Mrs Tanika. Additional poledancing images for Abby, Mrs Robbins, Tess and Tina Robbins.
Lilith's Start – Some changes to the start of the events for Lilith, an early sighting and possible bad end. A few more queries about her.
A Spell For All v14.11
Tutorial – Add additional tips/hints in the early game A Spell For All of using items, around Beasley's Paper and some general notes
Consistency – you can use the Silver Ring to free Tracy at the Robbins house. Many, many spelling errors fixed.
Sir Ronald – speaking to him about the charm spell now has alternatives. In future it will be a path selection event.
Transform – All alternate models for characters can be swapped using the Transform spell, including Jenny and Pamela merged in from Severn Valley
Model Choice – Zoey has a new alternate model, Riley Reid, mostly imported from images in the Bologna44 mod. Selected on first meeting Zoey. Transform spell can switch models as above.
Model Choice – Nurse Megan has a new alternate model, an old-school model Farrah, submitted by a fan. Selected on first meeting Nurse Megan at the hospital or pool. Transform spell can switch models as above.
Transform – Mayor Thomas can be transformed to a male and visa versa. Can also select to start the game as male. Sex events can be bypassed now to allow for some requests to avoid this for male characters
Transform – Using images processed by 'thepledge' forum member, Mom can be transformed to a younger version of herself or visa versa. Currently this is essentially an image only change, no other reactions aside from the transform itself.
Transform – Using images processed by 'thepledge' forum member, Mia can be transformed to a younger version of herself or visa versa. Currently this is essentially an image only change, no other reactions aside from the transform itself. Currently events with Bambi are unaffected but few are distinct for her age. In her younger form she can become pregnant in the end game.
Transform – Using images processed by 'thepledge' forum member, Mrs Granger can be transformed to a younger version of herself or visa versa. Currently this is essentially an image only change, no other reactions aside from the transform itself.
Transform – Using images processed by 'thepledge' forum member, Miss Logan can be transformed to a younger version of herself but not back again. Currently this is essentially an image only change, no other reactions aside from the transform itself.
New People – Sharon and Charley/Karly merged in from the Salons mod/Bologna44 mod. The Salons mod is removed. Note: Charley has a girlfriend charm and her pregnant endgame is ONLY for this charm state.
New People – Ash is merged in from the Bologna44 mod v2. She is semi-hidden and accessed slightly differently to the mod. Also has a 'friends with benefits' charm as well as the existing slave charm. She has a pregnant endgame ONLY for the 'friends with benefits' charm state.
New People – Karma is merged in from the Bologna44 mod v2, and she is semi-hidden and accessed slightly differently to the mod. She also has a new girlfriend charm.
New People – Lola is merged in from the Bologna44 mod v2. She has a new girlfriend charm and in this version she can do dominant bondage scenes on Gina. The slave charm has her do submissive bondage scenes.
New People – Savanna is merged in from the Bologna44 mod v2. She has a new girlfriend charm with different sex scene in that case and charm scene. The version of her charm process from the bologna mod is still present and can be selected in the first meeting to 'interview'. Updated to support a female player.
New People – Melanie is merged in from the Bologna44 mod v2, accessed after meeting Kylie a couple of times outside. She also has a new girlfriend charm. Note: due to her extreme slave charm you cannot recharm her.
New People – Betty is merged in from the Bologna44 mod v2, accessed after an event with Victoria and after meeting Mrs Tanika. She has an alternate girlfriend charm. Note: the hucow farm is not ported
Elian – resolution to the pact and after events. Three pacts possible, love-slave, demon bride, servant.
Tracy/Lilith – After Elian arrives there are a number of events with Tracy and Lilith in the lounge room, a periodic one, some movies and a poledancing scene.
Mayor Event – New law change after the passing of the nudism changes, public sex, with multiple new images around town
Town Events – More images for random townpeople
Campers – Campers are now a 'person' with some new images A Spell For All
Amy Event – Amy can dye her hair at Charley's salon
Charley Event – Charley can be recharmed between her slave/lover charm states
Pool Events – If you invite Mrs Granger swimming at night then you can share a room at the hotel for the night. Kylie has a new option at the pool after you receive her bondage SMS. Kylie's other pool scenes have more image variations.
Places – an abandoned cabin that cannot be found by normal means. Associated with Karma now.
Places – the Lake has been moved from the Severn Valley Mod to the main game, with different name/flavour, not a recreational place.
Places – the Hotel now has tennis courts, linked to Aunt Brandi's events.
Creatures – Non-human beings can be disabled, except demons and the ghost of Kurndorf. It will remove Lilith and Keana from the game but not Elian.
Layout – Some general layout changes to address better mobile support. All items lying in areas are moved into the main area, not the right column. Item popups also altered a bit.
Player – Added a generic shilouette avatar option for the player character A Spell For All
Pregnancies – Added pregnant images for Louise, Ash, Karma, Lola, Melanie, Savanna, Sister Desiree, Betty, Nurse Megan and some of the nuns at the church if the cult is in progress. Note: some of these are only available for their 'girlfriend' charm. Mia as noted above once transformed gets a pregnant scene.
Aunt Brandi – Visit and charm your Aunt. This version resets any existing save games to restart any events related to her.
Church Cult – Scenes recruiting for Mother Superior's cult. Currently 12 nuns but not fully characters, charm scenes and encounters in the main area of the church. Additional end game images and also a pregnant scene all using generic models, some from the movie "Non Ci Indurre In Tentazione"
SisterDesiree – Expanded images for Sister Desiree and also for scenes with Mother Superior. Largely just additional image variations.
Sounds – Some minor sound effects added, mainly around phone calls and SMS messages
Walkthrough A Spell For All – Updated with notable new events
Release date: 2023-12-03
Genre: ADV, SLG, Sexy Girls, Big Tits, Milf, All sex, Blowjob, Anal, Orgy, Domination, Incest, Mother-son, Brother-sister, Magic, Hypnosis, Mind Control
Censorship: No
Developer / Publisher: cmacleod42
Platform: Windows, Android
Version: 14.14b
Language: English
Size: 3.97 GB
Download Keep2Share
Download Turbobit
Download Hitfile