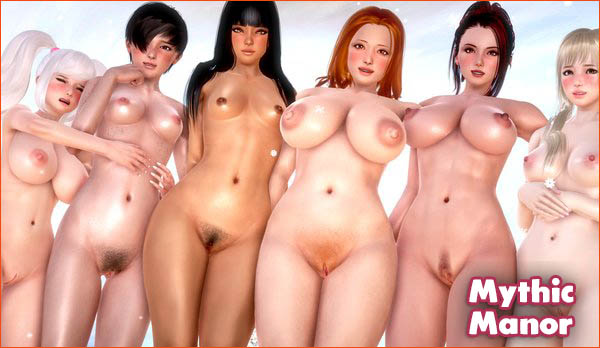 Mythic Manor is an adult fantasy game set in a new world. You are given the opportunity to plunge into your fantasies, this will help five beauties, "mythical girls" with whom you have to build a sexual relationship. They are ready to make your most secret desires come true. The game has a large number of unique and hidden events!

Changelog
Mythic Manor v0.20
New Content
Main Girls:
1 main event for Esther
2 main events for Fanora
1 main event for Naira
1 main event for Jade
1 Sunday event
Side Girls:
1 main event for Iris
2 main events for Vana
1 main event for Beatrix
1 main event for Aliza
1 repeatable event for Aliza
New character added – Kumi
6 main events for Kumi
New character added – Wren
1 main event for Wren
10 repeatable, random scenes for Wren
Added DahliaDarlin's tip menu for her later content
Additional Content:
Areas added – Office Building & inside areas
Area added – Mall plant store
Area added – Nefari's private library (unlockable)
Added a questline to unlock new characters
1 misc. event in the office
Other characters added – Aimee & Sylvie
Everything Else:
Added 3 unlockable wall posters for MC's room
Updated Natasha's chat image
Updated several character cards
Fixed Iris animations lacking tattoos
Added 1 music track
Added new patron wallpapers to PC
Fixed a few minor bugs & text mistakes
Updated hints, scene gallery and official walkthrough
v0.19
brings new main events for Fanora, Velle, Iris, Astrid, Vana, Miya, Francene, and The Pantheon girls. We also added several new area to visits – the Backstreets, Alley, Iris' Apartment Inside, Beatrix's House, and The Pantheon!
v0.18
Main Girls:
5 new main events for Fanora
1 new main event for Naira
Side Girls:
1 new main event for Iris
2 new main events for Vana
New character added – Astrid
3 new main events for Astrid
Additional Content:
New area added – The Police Station
Faye can now be ordered in the Velvet Room
Remade 17 old, low quality animations:
– 3 in Esther level 8
– 1 in Fanora level 8
– 1 in Naira level 13
– 3 in Naira level 18
– 3 in Nefari level 9
– 6 in Velle level 10
Everything Else:
Added 3 new music tracks
Added a new image of Iris at work
Reduced Velvet Room prices
Added $20+ patron names to PC
Added 6 patron wallpapers to PC
Fixed a few minor bugs & text mistakes
Updated hints, scene gallery and official walkthrough
v0.17
Main Girls:
New MAJOR main story event for Nefari (extra long event, equivalent to 3-4 lengthy events)
New main story event for Jade
New multi-girl event with Fanora & Velle
You can now sleep with Nefari, Velle, Esther, or Jade at late night
Side Girls:
2 new main story events for Iris
1 new main story event for Paige
New character added – Vana
2 new main story events for Vana
Additional Content:
New area added – "The Arcade"
Added playable arcade game – Street Stunt
Added button to change the name of MC in the scene gallery
1 cheat code added for $5+ Patrons (for arcade tokens)
Added several new songs and sfx
Everything Else:
Added lines clarifying something about Iris' powers
Fixed sfx bug in Esther's dream event when hitting Skip Event
Added $20+ patron names to PC
Added 7 patron wallpapers to PC
Fixed a few minor bugs & text mistakes
Updated hints, scene gallery and official walkthrough
v0.16
New Content
Main Girls:
New major main story event for Esther
Side Girls:
2 new main story events for Heather
2 new main story events for Anastasia
4 new main story events for Iris
6 new repeatable nightly scenes for Iris
Additional Content:
Added mini event in the mall to hint toward camsite flyer
Added hints for locked characters (click on a locked card in the hint screen)
Everything Else:
Added Dahlia to the hint screen + new hints
Reduced the size of the Android version
Fixed a bug involving watching adult videos on Sunday mornings
Fixed a few minor bugs & text mistakes
v0.15
Main Girls:
2 new main story events for Naira
2 new main story events for Nefari
New multi-girl event with Fanora & Jade
3 repeatable events for Esther
1 repeatable event for Fanora
1 repeatable event for Nefari
Side Girls:
New main story event for Paige
New main story event for Anastasia
1 repeatable event for Paige
Additional Content Mythic Manor:
Nefari's surveillance cam can now be installed!
Multi-part questline to unlock Nefari's cam added
Everything Else:
Added 'content under development' notices
Fixed Nefari's level 13 hint to make it more clear
Added July, August and September monthly PC wallpapers
Added $20+ patron names to PC
Fixed several minor bugs and text errors
Updated the hints
Updated the scene gallery
Updated the official walkthrough
v0.14
Main Girls:
New main story event for Esther
New main story event for Fanora
New main story event for Velle
New main story event for Jade
Repeatable events added for Esther, Fanora, Naira and Velle
Sleepover sex event added for Naira (in MC's room)
Side Girls:
Mythic Manor New story event for Anastasia
New story event for Paige
2 year anniversary winner's cameo character added: Fuyumi
4 new story events for Fuyumi
2 repeatable events for Fuyumi
1 repeatable event for Paige
Additional Content Mythic Manor:
Jade's surveillance cam can now be installed
New map location added: Tsundora
Everything Else:
Added new character cards for Fuyumi and Miya
Added bulletin board related dialogue for Esther when your repair skill is 0
Clicking on a closed location on the map now tells you what times it is open
Entering Naira's room alone is easier (no longer requires a cam or clicking on her door)
Altered Naira level 22 and 23 requirements to make them a bit easier
Fixed animation bug in the Esther/Velle multi-event
Added May and June monthly PC wallpapers
Added $20+ patron names to PC
Updated the hints
Updated the scene gallery
Updated the official walkthrough
v0.12
New Content Mythic Manor in v0.12:
Main Girls:
New main story event with Esther
New main story event with Nefari
New main story event with Velle
New multi-girl event with Esther and Velle
New multi-girl event with Fanora and Naira
Side Characters:
5 story events with Iris
1 story event with Nurse Andrea
5 repeatable events at the Doctor's Office
Added new Receptionist character
Others:
Revamped & Improved HINT SYSTEM – Much easier hints & time of day is provided for all levels with a revamped look
New transition when a new day starts
New animated main menu (Windows/Mac only for now)
Added 3 monthly PC wallpapers
Added $20+ patron names to PC
Updated the hints
Updated the scene gallery
Updated the official walkthrough
Content changes:
Fixed certain Jade-related content and dialogue
Made the right hall arrow glowing (so it's more noticeable)
Added playtime to the Stats screen
Added a few other stats to the Stats screen
Added a button to clean Esther's cam for Android users who could not progress her story
Changed requirements for Fanora level 25 and Esther level 25 (made easier)
Lessened requirements for Natasha level 1
Changed Naira's diary for Android users so the menu doesn't go out of bounds
Minor changes to past dialogue of characters
Other minor things fixed
Cheat codes
Current $5+ codes:
CURRENCY RELATED
gamewiz – gives you 10,000 Arcade tokens [v0.17+] mythmoney – gives you $1000
mythmazuma – gives you $10,000
mythmoola – sets your money to $999,999
boobtokens – gives you 100,000 MasturChat tokens
STAT/SKILL RELATED
hiresearch – maxes your research skill (once unlocked)
masterbaiter – maxes your fishing skill
hardworker – maxes your pay raise for article writing
profapper – sets your porn watched to 100,000
swoleaf – maxes your strength skill (50) [v0.11+]
MISC. RELATED
seenscenes – unlocks all gallery scenes
7days – adds seven days to the calendar
usernamechange – changes your username on MasturChat
ezjade – sets Jade's donations to $1200 and removes certain donating restrictions
glowup – makes Magic Lake glow at night
nopill – makes it so that having sex with Jessa never impregnates her (except for in her story event)
fixpill – reverts the "nopill" code. Having sex with Jessa will impregnate her again
nomilk – if Jessa is pregnant, she will instantly become not pregnant
begone – prevents girls from randomly inviting you to do things. Enter the code again to undo it [v0.11+] loomorn – lets you choose which girl will be in the bathroom in the morning [v0.11+] loonight – lets you choose which girl will be in the bathroom at night [v0.11+] poolmorn – lets you choose which girl will be in the pool in the morning [v0.11+] poolnight – lets you choose which girl will be in the pool at night [v0.11+]
Current public codes:
namechange – changes your name
Wallpaper Codes
Patron monthly wallpapers (enter these codes in the Code Input app on your PC to unlock):
March 2018 (Nefari) – saintnefari
April 2018 (Naira) – hoppynaira
May 2018 (Esther) – esthersday
June 2018 (Fanora) – fanorafun
July 2018 (Velle) – wildvelle
August 2018 (All manor girls) – beachgals
September 2018 (Jade) – naughtypup
October 2018 (Iris) – spookytats
November 2018 (Natasha) – natashaskitchen
December 2018 (Esther & Naira) – chillynips
January 2019 (All manor girls) – fappynewyear
February 2019 (All manor girls) – mythicvalentine
March 2019 (Nefari) – thiccsphinx
April 2019 (Fanora) – bunniefan
May 2019 (Esther) – estherhandy
June 2019 (Jessa) – hotjessa
July 2019 (Naira) – naughtynymph
August 2019 (Velle) – sizzlingstripper
September 2019 (Jade) – jadestyle
October 2019 (Nefari & Naira) – bumpkins
November 2019 (Paige) – turkeytits
December 2019 (All manor girls) – frigidbabes
January 2020 (All manor girls) – lewd2020
February 2020 (Dahlia) – ohdarlin
March 2020 (Fanora) – royalmaid
April 2020 (Nefari) – thiccbunny
May 2020 (Naira) – nymphpie
June 2020 (Esther) – lovelypearls
July 2020 – sexpiano
August 2020 – pantytoss
September 2020 – gymtits
October 2020 – creamqueen {*NEW*}
November 2020 – justbeachy {*NEW*}
December 2020 – hohohorny (v0.17+)
Release date: 2023-04-26
Genre: 3DCG, Male Protagonist, Mobile Game, Animated, Fantasy, Harem, Male Domination, Big Ass, Big Tits, Exhibitionism, Groping, Lesbian, MILF, Masturbation, Mind Control, Monster Girl, Oral Sex, Vaginal Sex, Group Sex, Virgin, Pregnancy, Sex Toys, Sleep Sex, Stripping, Voyeurism, Orgy, BDSM, Public sex, Watching porn, Titfuck
Censorship: No
Developer / Publisher: Jikei
Platform: Windows, Linux, Android
Version: 0.20 Fixed
Language: English
Size: 3.64 GB
Download Keep2Share
Download Turbobit
Download Hitfile