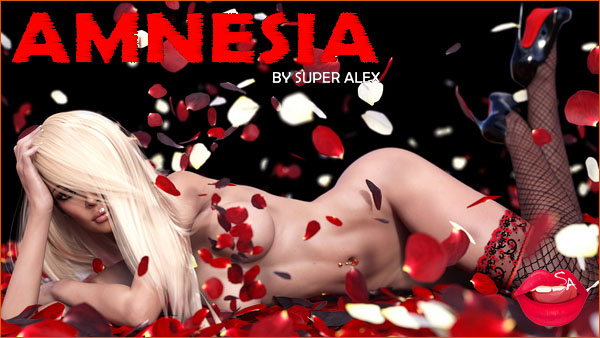 Amnesia is a new story from the developer of the popular game Lucky Mark. A man wakes up from a coma with amnesia. Will he be able to restore his memories and connection with his loved ones?

Changelog
v0.95b
Crash during naming save files – fixed
Missing image during Alexandra free roam – fixed
v0.95a
Story Scenes: Eva
+Free Roam Alexandra bath_play – 1 star
+Free Roam Alexandra toothbrush – 1 star
+Bonus Alexandra
+Minor bugs fixed.
Images: 867
Animations: 43
v0.94b
Wardrobe not working during night – fixed
Phone not hiding correctly – fixed
Map not allowing you to click on anything – fixed
Diary not updating correctly – fixed
Time sometimes not moving ahead correctly – fixed
Wrong sandbox events being available – fixed
Tooltip error – fixed
Normal version MAC not launchable – fixed
v0.94a
Story Scenes: Alexandra, Iris
+Free Roam Alexandra bath – 1 star
+Free Roam Alexandra sleep day – 1 star
+Free Roam Alexandra sleep night – 1 star
+Free Roam Alexandra tv watch – 1 star
+Bonus – Kate
+Minor bugs fixed.
Images: 935
Animations: 53
v0.93a
Story Scenes: Ellen, Amelia, Alexandra, Elena
New Images: 288
New Animations: 25
Fixed minor bugs
v0.92c
Major changes:
+Game size reduced more than twice (using webp and webm format)
+Diary overhaul – new quests and highlights
+New navigation screen at home – quick travel between locations
+Scenes adjustment – skipping (using CTRL or TAB) is paused in front of certain images and animations
+New option to name your save files
Minor changes:
+New checks warning you if you haven't seen all available scenes in the free roam slot.
+Difficult items made easier to find (Kate's book, panties, arrow on laptop…)
+New option to change relationships for Alexandra and Kate/Elena
+Special dialogue highlights in certain scenes
Bug fixes:
+Game freeze during the night masturbation scene – fixed
+Phone crashes – fixed
+Option to buy phone parts for Elena – removed
+Going to Spa before finishing Rei's story in the mall – fixed
+Missing English translation in the latest Alexandra's scene – fixed
And to answer some potential questions:
1. Why is it so big? Because every image and animation in the game has been reduced in size. Therefore, you're basically downloading the entire game again with this update.
2. Is it a story update? No it is not a story update. No new content has been added. This update focuses on improving the already existing content and making gameplay easier and more enjoyable.
v0.92a
Story Scenes:
Ellen, Mason, Kate, Alexandra
New Images: 417
New Animations: 25
Fixed minor bugs
Edited text in 2 last Alexandra's scenes
v0.91a
Story Scenes: 5
New Images: 282
New Animations: 16
v0.90c
+ Fixed error: Unfinished content can be started. The MC shouldn't go to Jaheem!
+ Added German translation to version 0.90
+ Added Chinese to version 0.80
+ Corrected errors in the translation display
v0.90a
Story Scenes: 7
New Images: 374
New Animations: 17
v0.88c
Fixed a critical bug, when talking to Amelia or Fabio, there should be a stalemate, because these scenes are not ready yet. If you passed the scene with Amelia and Fabio, you need to load the game before the dialogue with them (to see the new scenes in the next updates)
v0.88b
+Added Rei's panties to the search
+English translation edited up to v0.88
+Russian translation added and edited up to v0.88
Story Scenes: 8
Free Roam scenes: 1
New Images: 388
New Animations: 15
+Added German translation up to v0.88
+Fixed a bug that caused Russian text to appear in the English version
v0.85a
+Added Social Network (FotoTube)
+In the fourth scene with Rei. Now the sound of the car is turned off when the MC gets out of the car.
+Added translation to German language up to v0.82
+Added Russian translation up to v0.8
Story Scenes: 5
Free Roam scenes: 0
New Images: 162
New Animations: 2
v0.82a
+Added a test with Kate
+Added a scene with Elena in the shower
+Instagram scene added (according to the plot – this opens access to Instagram, but I will try to implement the ability to use Instagram by the next update)
+Updated Free Roam scene with Alexandra in the bathroom (Wednesday night)
+Added translation into German up to and including version 0.8
+Minor translation bugs fixed
Story Scenes: 2
Free Roam scenes: 1
New Images: 146
New Animations: 17
v0.8d
+Now, after event with the board and Kate, all items from the inventory for this event are removed
+A scene with Rei has been added to the gallery (it is enough to go through this one scene so that the gallery opened in all saves)
+Now, after the dialogue with Elena about the laptop, time is move forward
+Updated Credits
v0.8c
+Fixed a critical bug that did not allow you to finish the task with the search for items for the board
+Fixed a bug in a first scene with Kate when choice "I want to make money to help Alexandra"
+Added notifications and sounds to the event with the search for items for the board
+Added task completion labels (for the current version) for all tasks
+Added progress in the task "Find out what happened to me" (for the correct passage of the game in future versions, I recommend replaying the scene with Kate, where they make a board)
+Fixed minor bugs with incorrect transitions at Free Roam
v0.8b
+Fixed a bug with English translation (menus, Tooltips, dialogs menu, UI, etc. are now displayed correctly)
v0.8a
+This is the first version of the game with full Free Roam
+Most of the code has been reworked and adapted for Free Roam
+Added a night period
+Added a money's line in the inventory
+Updated the map for each time of day
+Possibility of full translation (SMS, Tasks, Notifications, Tooltips, etc.)
+Added the locations of the Hero's House, Hospital and Shopping Center
+Added the ability to re-watch scenes from TV and some future special scenes via a laptop in the MC's room
+Added all hidden images of special renderers to Free Roam. Now if you didn't find any images in the introductory part – you can do it in FreeRoam
+Added some new special renderers
+Added the ability to use the found panties before sleep
+Story Scenes: 22
+Free Roam scenes: 23
+New Images: 650
+New Animations: 70
v0.7a
Added 5 Jerk(Off) scenes (MC, Alexandra, Kate, Elena, Eva)
Added Russian translation (nonprofessional) up to v0.6
New Images: 0
New Animations: 68
v0.6a
Added 2 achivies
Added 1 lewd scene
Added Russian translation (nonprofessional) up to v0.5
New Images: 108
New Animations: 47
v0.5b
Added German translation for v0.5. Thank you very much mr. lukumo for your help in this.
v0.5a
Added 3 achieves
Added 2 special renders
Added 1 lewd scene
v0.4 Added German translation (nonprofessional)
New Images: 544
New Animations: 61
New characters: 5
v0.4a
Added 2 achivies
Added 3 special renders
Added 1 memory
Added 1 lewd scene
Added map
v0.3 Added German translation (nonprofessional)
New Images: 274 (no animations)
New Animations: 39 (1970 images)
New locations: 6
New characters: 7
v0.3b
Fixed major bug. Day 2 Morning. You can complite "Placate my belly" even if you try to enter the Elena's room the several times.
v0.3a
Added scene's gallery
Added special renders gallery
Added achievement system
Added Event tracking diary and history with each character
Added GUI
All variables have been completely redesigned and many new ones have been added
v0.3
Added inventory
Added phone
New Images: 290
New Animations: 28 (2521 images)
Blink Animations: 9
v0.2c
v0.2 Translated into Russian
v0.2b
Music does not restart when you navigating in the menu
Sound in animations is tied to the effect slider now and can be adjusted
Fixed a bug with creating a screenshot
v0.2a
NEW Images: 530 (no animations)
NEW Animations: 26 (2364 images)
NEW characters: 6
NEW locations: 2
ChangeLog:
V0.1 Added German and Russian languages
V0.1 Minor cosmetic changes.
V0.1 Added the option not to touch Eva in the Hero's bedroom.
V0.1 Replaced two animations with Eva in the hero's room at 30 frames per second.
V0.1 The size is reduced by half, but it seems to have affected the quality of the images (Amnesia v0.2 I did not risk to compress)
V0.1 Added new variables witch will remember the player's actions in order to change the reaction of the characters in future versions, as well as this will affect the gameplay in general (it will allow you to make several branches of behavior with some characters).
Added ability to change the transparency of a textbox in the settings.
IMPORTANT POINT – old saves will not work. You have to play the game from the beginning!
v1.0
First Release game Amnesia
– Text: 100,000 characters
– Images: 460 (no animations)
– Animations: 10 (302 images)
Release date: 2023-08-20
Genre: 3DCG, Male protagonist, Animated, Voyeurism, Mystery, Incest, Cheating, Romance, MILF, Groping, Corruption, Oral sex, Vaginal sex
Censorship: No
Developer / Publisher: Super Alex
Other game: Lucky Mark
Platform: Windows, Linux, Mac, Android
Version: 0.95b Extra + IPatch + Walkthrough + Gallery Unlock + Walkthrough/Gallery Mod 0.94
Language: English, German, French, Chinese, Russian
Size: 4.84 GB
Download Keep2Share
Download Turbobit
Download Hitfile