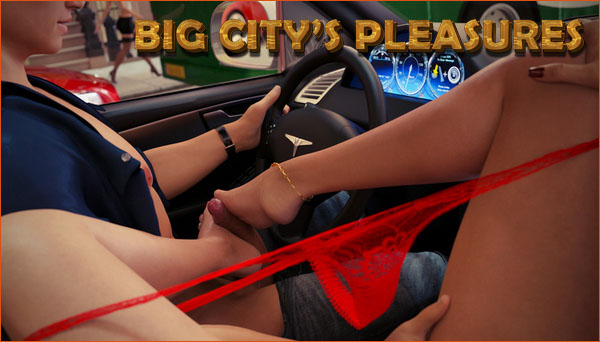 Big City's Pleasures – the game is about Tony, a man who lives in a village far from the big city and has to move it to study. Luckily his childhood friend Gina allows he to live in a room at her apartment. And with this he begins his sex adventures, meeting again with other girls from the city. Soon he will find himself in unusual situations for him that will make discover his sexuality in many ways. But not everything is what it seems in the city, and Tony will be involved in more than a mystery…

Changelog
Big City's Pleasures v0.7.0
Here's some data about this new version:
75 New animations
333 New images
12 New songs
Improvements in the programming:
Redesign of the Fashion Store interface
Now showing custom playername in replays
Some small fixes/improvements
v0.6.1
352 New images
8 New animations
4 New songs
Improvements in the programming:
Added an interactive explanation about the game's mechanics
Improved dialogue/text readability
Made a lot of blocking animations skippable
New location unlocked screen
New screen when there's nothing to do at a location
Some small fixes/improvements
v0.5.2
917 New highly detailed images!
84 New animations that will blow your mind!
21 New songs to create the right atmosphere!
In-depth story and dialogues!
Programming improvements (among many others)
Laptop interface
Katia's path optimization (to reduce repeated scenes)
Ms. Cooper's path optimization (to reduce repeated scenes)
Improved navigation (maps design and improved availability of characters and items)
New points screens/notifications
Updated old notifications (unlocked items, etc.) to the new style
Versions v0.4.1 and v0.4.2 fix some small bugs, but in any case they don't prevent you from playing all the scenes and reaching the end of this version; if you have already completed the game in v0.4, you don't need to update and play again.
Big City's Pleasures v0.4
New programming:
New dreams menu
Phone contacts now unlock when the become available
Reintroduced built-in cheats (click on MC in the stats screen)
New wallpaper picker for the phone (with a lot more options)
Improved aesthetics
Improvements in exists quests
Very detailed quests
Added a player renaming option
New colorpicker for dialogues background (also an option to disabled the picker)
Added names to shop and inventory items
Mainmenu redesign
New notifications system (notifies about unlocked quests and received messages)
You can now see your overall progress and your progress per character
Added the Pleasure Meter
Added a side menu, which gives you access to your stats, quests and phone
Redesigned top bar (information bar)
Option to give a name to saves or delete them
More content:
165 New animations !!!
917 New images !
23 New songs
Gina: Continuation of the final scene in version 0.3.1 with Gina
Gina: The best scene I've created so far! (Have your scarves ready)
Cassie: Not everything happens in the photo studio 😉
Charlene: She's about to tell you something shocking!
Jessy & Gina: Time to have some fun with Gina
Alexia & Sabrina: Scene with 3 possible endings, choose to your liking!
Ms Cooper & Jennifer: 2 scenes… The really interesting lessons begin!
Big City's Pleasures 0.3.1
New programming: Many changes and improvements have been made to almost the entire game!
New quests system: Much better than the previous one. We hope this helps you to know what to do at all the time. Maybe we have to adjust something, but the way it's programmed allows to do it without causing any problem with your save files 😀
New interface for the smartphone: A nice interface with many features… view contacts with their statistics, receive and send messages, image gallery, replay gallery, customize the wallpaper, …
New dialog box: Do you want to see the text as you like it? Just place the cursor over the text box and use the "Color Picker" to make it look as you like, cool right?
The game stores have been reprogrammed, with a new design and better functionality
New Main Menu: New more minimalist aesthetic, we hope you like it!
New replay screen for scenes (in Extras)
New screen to see the previous months 4K Specials as they are available (in Extras)… Oh, and you can see them in their original resolution, 4K, and zoom and navigate through the image, isn't that cool? 😮
New progress notification system (when you do yoga or when you read the comics)
New aiming system (Poor Olivia, lol)
And many other internal changes that you will not see but that improve many functionalities
98 New animations!!!
528 New images!
10 New songs
Hot new photo shoot with Cassie
Several small sequences with Charlene that lead to a longer, and very "Wholesome" sequence, lol
New hot scenes with Olivia (Party! Party!)
New yoga scenes with Gina
Night visits to Gina's room
Crazy new scenes with Jessy: Watching the romantic movie (various possibilities) and visiting it in the morning
Bug fixes
Big City's Pleasures 0.2.4
579 high-quality images carefully created with attention to every detail!
32 new animations, some of them with realistic physics simulation technology!
New music and sound effects
Great stories, feelings, and good times for you to have fun
Initial notes:
This version is especially dedicated to the "continuation of the story with Gina" that was left pending in the previous version; she is the real protagonist and I've tried to create a realistic and beautiful story with her and the protagonist (you); I hope you like it and that it evokes in you the same feelings that I had in its creation.
But there is much more than Gina in this version
New Scenes:
Continuation of the story with Gina (Queen of the game!):
Continuation of the "Great scene" of v0.2.2 ("The day after")
Spy her in the bathroom, in her privacy she will do things, good things
Great final story !
Introducing Cassandra Vamp (Sandra):
Jessy will introduce you to her great friend Sandra… I'm sure you'll love her!
Interactivity in "action" scenes
Interaction with Jessy:
Enjoy the first session in front of the webcam with our naughty girl, Jessy!
Interactivity in "action" scenes
Interaction with Becky:
I'll just say this: "Becky meets Jessy"
Interaction with Ms Cooper:
Several small scenes where certain things will be revealed, and there will be some changes in "who's in charge", lol
There will be a special guest in the final scene
Interaction with the shop assistant:
Spend a few bucks at the store on something expensive and she'll make you a special offer you shouldn't refuse
Interactivity in "action" scenes
Special Ending:
I prepared something special for the end of this version, I hope you like it
*Note 1: The Android version, because it requires more compression of images and videos, I will prepare it tonight.
*Note 2: I didn't have time to add some of the new scenes to the "replay system", sorry, as soon as I can I'll add it and make a new compilation.
Note 3: Although I tried to check that everything works fine, it's likely that you, who will squeeze the most out of it, will find small details to improve/correct; please, don't hesitate to contact me (preferably via email) to comment them and I will check it out right away
Big City's Pleasures 0.2.3
707 new images and 48 animations!
New music and sound effects
Initial notes:
Due to a poll in our patreon, this update has been specially dedicated to Katia. The scenes with her have given us a lot of work because we wanted to build a good story without precipitating events; this has caused a great delay in the publication of this version and, not to delay it any longer, we have been forced to skip the continuation of the scene with Gina, which we regret.That's something that may surprise you if you start playing from a save file in that scene… it's a bit abrupt since there's no continuation. Please keep that save file so you can continue from there as soon as we publish the next version; that version (v0.2.4) will be only and exclusively dedicated to the continuation of the scene with Gina, so it won't take as long to publish it as this last one.Having said that, we hope that the work done with Katia has been worth the effort and that you enjoy it!
New Scenes:
Interaction of Katia (Queen of this version):
You will be able to make multitude of visits with diverse variations and to evolve a lot in the relation
Interactivity in "action" scenes
Katia will tell you her big secret
Introducing Megan:
You'll finally meet Megan.
Several scenes with her and an interesting story with a… foreseeable ending
Interaction with Jessy:
Two small, but very hot, scenes
Interaction with Cassie:
Cassie has a surprise for the "town boy", don't miss it!
Interaction at the university:
New Scenario: Restroom
Meet the Rebels; the bad girls from university (3 new characters)
New distraction system in history class, with more girls and new images.
New Scenario:
The Fashion Shop
New Character (a hot one, hehe)
Use it to buy the clothes you need
*Note: At the moment it has adapted to Katia's missions, but in the future there will be much more variety of clothes to choose from
New replay system:
In the Big City's Pleasures main menu, if you click on "EXTRAS", you'll have the possibility of repeating scenes of the game once you have unlocked them (they unlock automatically when you see them).
Known Issues:
One animation with Megan has a different lighting and you can see the change; we will correct it in the next version (minor problem).
Release date: 2023-08-18
Genre: 3dcg, Animated, BDSM, Group Sex, Big tits, Small Tits, Corruption, Voyeurism, Anal, Oral, Vaginal, Double penetration, Exhibitionism, Spanking, Teasing, MILF, Harem, Incest, Titfuck
Censorship: No
Developer / Publisher: Porcus
Platform: Windows, Linux, Android
Version: 0.7 + Inc Patch + Cheat mod
Language: English, Spanish
Size: 11.04 GB (HQ) / 2.92 GB (LQ)
Download Keep2Share
Download Turbobit
Download Hitfile