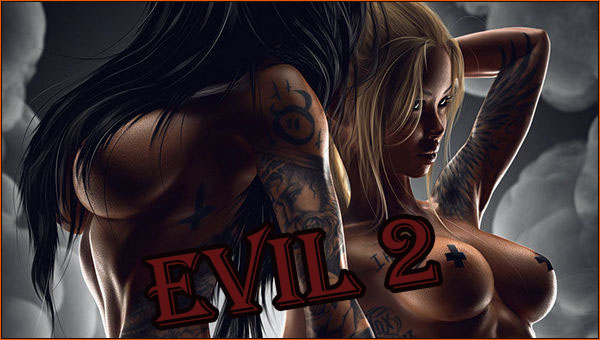 This game Evil 2 is an open world QSP based RPG style game. Much of the inspiration for this game comes from the original game EVIL with similar game mechanics and storylines. It is a lot different than the story based visual novels where your hand is held throughout the game experience. No hand holding is done in this game. All choices are up to you. You carve your own path in this game and you basically create your own story.

More Info
You create a male character and start life in the capital. The action takes place in a parallel world where most things are similar to our world, but there are also differences. In the course of the game you can, for example, create your own gang, you can use and sell drugs, you can own a brothel and manage whores, engage in blackmail and, through acquaintances with the elite, turn things around, you can kidnap people and force them to sign slave contracts. Slavery is legal (with restrictions) and you can train your own slaves. The game has a wide range of actions and a deep sex system. The game has an important economic component; you can legally earn every penny at work or you can choose to break the law to climb to the top of the world. The choice is yours! There is no rigid plot in the game and you don't owe anything to anyone.
Evil 2 is a remake of the original game Evil with added features and lots of enhancements and improvements. It is not a sequel.
This game uses real porn for the picture and video assets. If you don't like this type of game, don't play it. Due to the large volume of NPCs generated, the pictures and videos will not necessarily match the NPC's description. If this kills the immersion for you, you should look elsewhere.
Changelog
v0.69
New Story – 'Pool Girl Stories – Sasha' – Hopefully a fun and lighthearted adventure with this cute and shy girl
Added pictures for most of the exercise activities in the game
Added a few pictures to University activities (exercise, library, soccer)
Gang robberies can be fully automated now if you so desire. You now have the option to setup a semi-permanent driver, gunman, and money bagger.
You can now cover girls with small breasts completely with cum even though you don't have the 'Titty Fuck' option. When you orgasm from a blowjob, you now have the option of covering her small breasts. I discovered this in-game and was surprised that no one brought this issue up in the past (that I can recall at least).
Your gang members will now be automatically removed from Boxing and Shooting training once they reach max level, saving you caps!
Added a small bit of immersion with City Gangs. Since Tony runs the Camorra cartel your gang will now be listed in this section once you complete the 'Family Trouble' story part 2.
You will now be notified when one of your workers or gang members are caught by the police and are in jail. I know that many people speed through reading the 'End of Day Earnings Report' and miss this important information.
Added 'Legal Businesses' as a shortcut to the 'Secret Office' screen for quicker access
I ended up overhauling roughly 10% of the game with partial overhauls with character creation, NPC stories, NPC Generation, Gangs, End of Day Earnings Report, etc.
I removed multiple tasks/options that didn't make sense when interacting with certain NPCs. For example, why would you want to do a Setup on your mother. The available options are more fitting to the NPC since I gave them additional conditions. I feel the options are more fitting and immersive now.
Over 60 bug fixes and code cleanup. Removed and consolidated duplicate code
Evil 2 – 0.65 Beta​
Bug Fixes:
Includes Evil 2 – 0.64 patch 1.3
Lowered the requirement for daily earnings to 5000 caps from 10000 caps (from hotfix 1)
You can no longer purchase ebony/black slaves from Bar Eight – We thought this had been removed long ago since there isn't matching content for ebony/black females in the generic sex system
Existing ebony/black females will have their skin color changed randomly (no matching content to support them)
Very drunk girls at college parties and clubs will always agree to sex now and won't back out any longer – The only exception to this is if you are a college student living in the dorms and you try to take a non-college student home for sex which isn't allowed by the university (a guard checks student status at the door). The girl has to be 'very drunk' not just 'drunk' for this to always work (Update: fixed a bug that still caused this in patch 1.2)
There is a chance of a student rejecting booze from the player for college parties
dynamic $d_pimp_that_bitch – cheat will now refresh the screen automatically
A few minor fixes to pregnancy and birth control – Girls will no longer complain about getting pregnant if on birth control or already pregnant when you creampie their pussy (Update: additional fix included with patch 1.3)
A few minor text fixes to the Pool Girl story
If Mabuta takes all your slaves, whores, and belongings away if you fail to turn a profit, you no longer lose your university student status or your job
The first five events in the game now increase time, cause energy loss, cum loss, etc.
Fixed several bugs with 'notify developer' popup error messages
Fixed a bug with total whore & slave counts
Fixed several bugs with NPC location calculation
Enhancements, Improvements, and Changes:
Drug dens will increase in clients faster when first established
Dick size choices were reduced during character creation for multiple reasons (gameplay & story)
Made several small improvements to events to make them compatible with the new 'Replay' feature
Added music to the 'Babysitter' event (it only had a few clips at the very end)
The random hour 7 shower events with Phoebe and Anna are no longer forced. You can now leave instead of engaging in the event
Added 'Postpone' and 'Disable' options with events that didn't have them
Factories now have a maximum warehouse size of 500
When accepting a new factory contract, the old inventory is sold off to the previous contractor at a huge discount. You then start a new contract with no inventory in your warehouse since different products are often being produced. This is much more realistic and immersive
Small text improvements in several events & stories
Code cleanup
New Features:
Replay Events & Stories – Players can now replay past events & stories without having to start a new game. The option has been added to the 'Computer' menu. This feature also allows players to begin new events and stories that they may not meet all the requirements for. Cheats have to be enabled in order to use this feature.
Pool Girl Stories – Leah – New event which is unfinished (80% completed) – Requires 'Pool Girl' story Part 3 to be completed
Evil 2 v.0.64
New Features:
Part 3 of the Pool Girl story (taking up 98% of this release) – Five to six hours of new gameplay
Hiring a lawyer to handle your legal issues and legal expenses (now that you are medium sized fish)
Hidden camera system upgrade for the farm
Hire guards for the farm (under Mansion Management)
30 new BDSM slave training videos
Train a unique named NPC in your slave training dungeon with new unique options (part of Part 3 of the Pool Girl story)
New unique named love interests (part of Part 3 of the Pool Girl story)
Bug Fixes:
Fixed multiple code formatting problems with some videos and pictures​
Having no options to continue if you run out of energy during slave training at the farm​
Miscellaneous small bug fixes​
Changes & Improvements:
Factory earnings overhaul (see Factory section below)
You no longer get booted out of the salon and medical center menus after performing one task
Small text improvements
Small formatting improvements
Evil 2 v.0.63
New Features:
Pool Girl story – Part 2 (by noobtrain) (Part 1 was done by skybarbie)
Convince a married female NPC to divorce her husband (must have had sex with her, have an excellent relationship, a moderate reputation, and own the mansion)
Withhold drugs from a drug addict whore to try and get her clean – has a chance of failure where you lose the whore – a high incentive greatly improves your odds of keeping her – takes a week before you see the results
Change an NPC's first and last name – must have an excellent relationship with the NPC (a side effect of this is that the NPC's name won't get changed in the player's story/history since these entries were made in the past with the old name)
'Make her Squirt' sex option (homesex) – added by M$hot
Changes & Improvements:
Overhauled the client numbers and earnings for street whores. Should be greatly improved and more balanced.
NPCs who have served in the army will now have their soldier skill stat listed
Searching for debtors with your gang is now more effective (was super slow before)
Made small improvements to NPC generation
Made small improvements to NPC stories
Text improvements
Formatting improvements
Code cleanup
Evil 2 v.0.62 Final
Changes & Enhancements:
Put limits on most of the stats in the game for players and NPCs
Made some more adjustments to body calculations and handling
Small improvements to NPC generation
Small improvements to NPC stories
Moderate level overhaul to contacts that you meet at the theatre, strip club, and receptions. You are now shown more details about the person and are given the option to add them as a contact or not.
Higher level of chance to meet soldiers and mechanics when meeting new male NPCs
Made a few changes to the 'dynamic $d_pimp_me' cheat to allow it to help meet the requirements for the 'Pool Girl' and 'Babysitter' new story and event
Part-time jobs had flexible hours where you could still go to work if late but full-time jobs didn't allow for that. Now full-time jobs are flexible also. You will only get paid for the hours you work.
Listed starting hours for full-time and part-time jobs
Increased the pay slightly for full-time jobs and made the part-time job pay more consistent
Made the janitor/cleaner job available for males
Renamed some of the part-time jobs to be more appropriate (better description titles)
When a debt whore pays off their debt to you and is no longer your whore, it is now reflected in her story
Added music to the nightclub when taking a girl on a date there
You can no longer do most gang tasks without a gang leader
Removed the select sex and sexual orientation screen from character creation since it was confusing some players (players could only choose straight males anyway so the menu options weren't needed)
Small English improvements
Small formatting improvements
Code cleanup
New Features:
Babysitter – New Event – (30-45 minutes of new content)
Pool Girl – New Story – Part 1 – (60-90 minutes of new content)
Added several new options to upgrade your mansion and mansion property
Added an option to upgrade your farm property to be a real home
Added two new car options that you can purchase – super car and hyper car
You can now purchase a super yacht
You can now hire a gourmet chef for your mansion and eat gourmet food
You can purchase a car for Phoebe and Anna
Note: The above new features require you to complete the 'Family Trouble' storyline first
Added 12 new videos and 12 new undressing pictures to the generic sex system for Phoebe and Anna (introduced in the 'Family Trouble' story)
Evil 2 v.0.62 Beta
Pool Girl – Part 1 – New Story
Basic Requirements to trigger this event:
Complete the 'Family Trouble' story
Complete the 'Photo Drama' event with your family
Have all of your combat skills leveled up to at least 1000 (boxing, kung-fu/martial arts, wrestling)
200,000 caps
Upgrade your farm house
Own a pool at your mansion
Excellent relationship with the Chief of Police
Excellent relationship with Tony
As you can guess, this event starts at your mansion pool. Some players neglect the kung-fu/martial arts and wrestling skills which will be a pain to level up to 1000. If you want to cheat these stats use this cheat:
dynamic $d_pimp_me
Babysitter – New Event
Basic Requirements to trigger this event:
Complete the 'Family Trouble' story
Complete the 'Photo Drama' event with your family
Rent a server
105,000 caps
Upgrade your farm house
Own a computer
Own a cool car or better
Hire a gourmet chef for your mansion (Mansion Management)
This event starts in the 'Computer' menu. You place a false ad for a babysitter.
Release date: 2023-11-29
Genre: anal sex, BDSM, cheating, combat, corruption, creampie, dating sim, drugs, exhibitionism, graphic violence, groping, group sex, handjob, harem, humiliation, incest, male domination, male protagonist, management, masturbation, MILF, oral sex, pov, pregnancy, prostitution, real porn, romance, RPG, sandbox, school setting, sexual harassment, simulator, slave, spanking, stripping, titfuck, urination, vaginal sex, virgin, voyeurism
Censorship: No
Developer / Publisher: Hivoltage, spectre1viper, jessicajones, noobtrain
Platform: Windows
Version: 0.69
Language: English
Size: 16.56 GB
Download Keep2Share
Download Turbobit
Download Hitfile