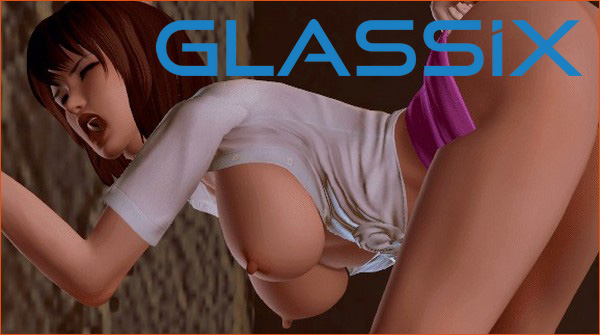 Glassix is a project aimed at giving you another opportunity to enjoy gaming. You follow the story of the protagonist, who picks up a suspicious object. These goggles allow him to see through clothing and use orders for his purpose to make them more receptive to rather peculiar tasks…

Changelog
v0.7.0
Channel packed hair, skins and eyebrows textures to reduce GPU and memory consumption
Max texture size is now 2K, down from 4K
Updated furniture, locations, buildings, outfits, hair and skin shaders to work with channel packed textures
Added outfit menu in Appearance and Biography editors
Added 5 new female tops, 3 being exclusive patron content
Added 4 new female bottom, 2 being exclusive patron content
Added 2 new female panties, 1 being exclusive patron content
Added 1 new female boots exclusive content
Added 1 new male shirt
Added 1 new male pant
Added 1 new male shoes
Added 6 new female hair styles, 3 being exclusive content
Added 6 new male hair styles, 3 being exclusive content
Added new game menu to unlock exclusive content through unique codes
Glassix Part 2 v0.6.0
Added 3 new spells: Slave mode, X-Ray and Invisibility
Added 2 new female clothes (used for secretary outfit): Blouse A and Skirt B
Added 3 new male clothes (used for dean outfit): Shirt B, Pants C and Shoes C
Added 2 new sex positions: Missionary and Standing cunnilingus
Updated hair shader
Fixed
Glassix Part 2 v0.5.0
Added new attribute and skill icons
Added new businesses and business menu
Increased font size in various interfaces
Added sun shafts and moon shafts
Fixed light bleeding issue in small bedroom. All models will be updated later to fix light bleeding issues in the game.
Added new memory caching game option
Optimized texture memory usage
Fixed issue with XML loading on setups using different number formats
0.78.1
Sex
Added 2 possession events: Kristina and Romita
"More ordinary days" events completed for Okimi (12 events in total)
Glassix 0.77
Emika's possession
"More ordinary days" events completed for Rin, Ayumi and Hikari
Two lines of changelog only but those "More ordinary days" events actually cover 12 different events, 4 for each girl and expand the options of their initial unique "Just an ordinary day" events. You can find those by filtering the event list with those keywords.
v.0.76.0
New VIP event "Outdoor magic with Tokie" by Xarexes
Added 1 choice during vibrator event during class
Added 1 possession event: Nabila
v0.75.0
Sex
Extended VIP event "School Meeting" by Xarexes with 3 new follow up events
New vibrator event: Mitsuko + Okimi
Translation
Chinese translation updated by Darkbatex
English translation, Romita's file, improved by Spectre
Fixed issue with travel time on city map
Fixed issue with prices for taxi and bus on city map
v0.74.0
Sex
New VIP event "School Meeting" by Xarexes
Event "Mitsuko's bar games: playing again" is now repeatable
Event "Emiri's bar games: risk and reward" is now repeatable
Added 3 date events: cinema, mall and library
Town
Added cinema in Street P, Southside
v0.73.0
Sex
Added 3 possession events: Hanae, Daisuki and Naomi
Added 3 new vibrator events: Okimi, Sarah, Hikari
v0.72.0
General
Pathfinding is now cached, which should reduce game slugginess between menus
Optimized city map interface which should load faster now
Using slave mode on a girl no longers drops her affection to 160 if it was above (Thanks KingCreeper!)
Lily doesn't care about the location to have sex anymore, whatever her level (Thanks Squark!)
Added third column in keys status page to display all keys in game properly (Thanks RemoraDFC!)
Sex
Added alternative endings for remaining level 1 commands
Added new options for the Town's employees uniform quest
Added new option to event where classmates discover Sarah secret (Warning! You share your girls in those…)
Added new option for the Belly Dancing Class event with Kristina
Added Tokie's and Ryoko's possession events
v0.71
Added possession events for Okimi and Iyo
Added first pimping event (Devil's Lust spell) for Iyo, Romita and Emika
Completed alternative endings for handjob commands
Updated some images in Kumiko's possession event
Extended harem ending with Lily x Anael scene (VIP request by Xarexes)
Added missing Toilets and Bath options for Romita
Quite a few scenes this time around! 3 new pimping scene, 2 possession events, more alternative handjob endings and the harem ending has been extended with a Lily x Anael well deserved scene to end the game with a bang!
v0.70
General
Added more house key duplicates throughout town in related job locations for easier house access
Sex
Added Sarah possession event
Alternative endings for handjob commands
Update some images in Kumiko's possession event
v0.69
New options for lifeguard assistant job at the beach
New VIP event "Kinky lunch time" by Xarexes
v0.68
2 new options for Administrative assistant job in Town hall
New option for park lifeguard job in Aquatic park
New VIP doll mode command "Hikari & Mitsuko duo" by PR
New VIP event "Cop Threesome" by Xarexes
New VIP event "Hospital fun" by PR
v0.65
Romita level 4
Romita good and bad endings
That's the last girl to be fully implemented in Glassix! There are still a few missing sexy outfits images missing for her but it'll be added in the patch.
Now we'll focus on completing a few missing stuff here and there, like some options during jobs, some events to balance unique events between girls, adding the sexy outfits image for some girls which have been missing for a long time or the date options and more. As well as adding VIP events when requested.
Once done, I guess that'll be the end of development for Glassix and the release of its version 1.0. The VIP reward will be removed once the final version is completed.
Thanks again for your support!
v0.64.0
Added Tokie good and bad endings
Added Tokie, Eimi, Yae and Kristina's pimping events
Updated Fujiko's bad ending to include Ayane
v0.63.0
Tokie level 4
Glassix v0.62.0
Emika level 4
Emika good and bad endings
Possession events for Rin, Ayumi and Hikari
French translation updated by CarpeNoctem (Thanks!)
Glassix v0.61.0
Added Atsuko level 4
Added Atsuko good and bad endings
Added Atsuko pimping and possession events
Added "Saving Kanto" event for Atsuko to access her good ending if previous step was unfulfilled
Added bonus event "Tokie soaked!" for Tokie
Added bonus event "Romita's bike fun" for Romita
Added alternative endings for daily commands "Assrub" and "Dildo"
Glassix 0.60
Added Tokie and Romita level 3
Added bonus event "A disturbing movie" for Atsuko
Added bonus event "Kinky check-in" for Emika
Added two alternative endings for the daily command "Standing Assrub"
v0.59
Added Atsuko and Emika level 3
Added new follow up event to "Azeem job"
Added new follow up event to "Rin DP"
v0.58
Added Tokie and Romita level 2
Added new event "Azeem job"
Added new event "Rin DP"
v0.57
Added Atsuko and Emika level 2
Added new blowjob contest event with Rin, Ayumi and Hikari
v0.56
Added Tokie and Romita level 1
Added alternative endings for masturbation commands
Added Yatsumi possession event
v0.55.1
Chinese translation updated by Darkbatex (Thanks!)
Added Atsuko's house in Eastside Street B
Added Romita's house in Downtown Shop A
Updated Emika's house in Southside Street O
Updated Tokie's house in Southside Street P
v0.54.0
Added quests to unlock the cop's and mall's sexy work outfits
Added Nabila bad and good endings
Added new options in Kristina level 3 and 4 obedience events
Glassix v0.53.2
Added Nabila level 4
Added Nabila pimping event
Added belly dance option for Marylin during her session event
Added possession, pimping, daily pimping, spell corruption, good ending and bad ending events for Ayane
Added new VIP event by Hollow: A bored Rin
Glassix v0.52
Added Nabila level 3
Added Ayane level 3 & 4
Added new event "Belly dance" for Nabila
Russian translation updated by FomFom
Glassix v0.51
Added Ayane, a junior student, Ayumi's sister and Fujiko's daughter
The administrative assistant job is now introduced by Marylin
The lifeguard assistant job is now introduced by Tokie
Added Nabila level 2
Added Ayane level 1 & 2
Glassix v0.50.1
Nearby event will disappear if not enough time to reach destination
Nearby event will disappear if the target moves from destination
Waterlily event now correctly awards sexen
Glassix v0.50.0
Added "Nearby events" feature to easily find nearby events
Added "Nearby events" option in Options menu to select which nearby events should be targeted
Added new text travel option
Added rollback feature during events with mouse wheel or up/down arrows (Requested by Nullshadow)
Added a popup to warn the player when time changes during events
Glassix 0.49.1
Anael and Lily are not affected by the Timestop spell anymore
Added suspicion gain during Water Lily event
Glassix v0.49
Added Daisuki level 4
Added new timestop event for all girls
Added new event with Lily and Shizuru
Glassix 0.48 released
Added time stop spell
Added Daisuki level 3
French translation updated by CarpeNoctem
Chinese translation updated by Darkbatex
English translation, Hikari's file, improved by Spectre
Soooo, this version contains the usual new level for Daisuki.
Glassix 0.47 released
Added blowjob and anal commands in doll mode
Added Daisuki level 2
Glassix 0.46 released
Added Nabila level 1
Added Daisuki level 1
Added slave pimping button in the girl status page, 3 girls max. Requires Slave mode and Devil's Lust spells as well as having unlocked a specific event related to pimping.
Pimping girls using this new button now earns some money and sexen at the beginning of each day
Added 3 short daily pimping events for each girl
Added Daisuki's house in Downtown Bakery and Bakery Street
Added Nabila's house in Northside street H
Release date: 2023-08-12
Genre: Hypnosis, mind control, handjob, vaginal sex, oral sex, anal sex, humiliation, slave, voyeur, exhibitionism, incest, milf, sleep sex, bdsm
Censorship: No
Developer / Publisher: Gaweb Studio
Platform: Windows, Android
Version: Part 1 0.78.1 + update only / Part 2 v.0.7
Language: English, French, Chinese, Polish, Russian
Size: 6.55 GB / 4.4 GB
Download Keep2Share
Download Turbobit
Download Hitfile