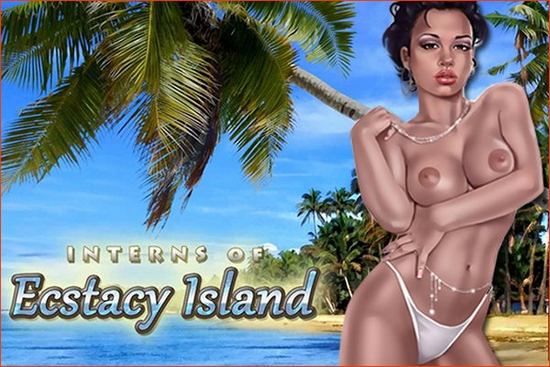 In the game Interns of Ecstasy Island – you are a college student who lands a once-in-a-lifetime opportunity for an internship. You will work at a tropical island resort. After a night of drunken partying you are alarmed to find you are transforming into a woman. Train to work at various parts of the resort, investigate the cause of your transformation, and maybe have a little fun on the way.

Changelog
Release: Interns v0.321
Graphics Maintenance
For those who haven't been following along on Discord, I took a little time to do some "graphics maintenance." Essentially, I wanted to take a little time to make sure my tools were in good order and my files were organized.
In more detail, this included…
Software updates – With some help from people on the related Discord, I made sure my studio plug-ins and other tools were up-to-date (hopefully solving some of the issues I was encountering). I've added a few new plug-ins as well, which look like they'll be helpful.
Organizing character files – This one was long overdue. Even though I'd made a directory of the models for the 40+ characters I've used in the game, they get regular tweaks and costume changes, and before long, I end up with folders filled with files that just have random number/character strings for names.
I worked backward through everything chronologically and named and organized the files so that I knew which files were the most recent ones for each of the characters.
Organizing maps and props – In my attempt to get better educated on my tools, I found some functionality that I'd previously overlooked; namely that I can organize studio items into folders.
Whenever I'd download new props or locations, I'd been at the mercy of wherever the creators categorized the items, meaning I'd often have a hard time tracking things down, or might've completely forgotten about things I hadn't come across since installing.
I've been able to clean that up a bit, making folders for things like rooms, beach props, drink models, etc. This will make me much more likely to use these things in renders, since trying to track down an item won't break my workflow and take large amounts of time.
Character update prep – Thanks to an assortment of new tools, I now have the ability to make real-time adjustments to characters under studio lighting conditions, rather than having to port back and forth between the studio and character maker. This presents a good opportunity to not only fine-tune how characters look in renders, but I can actually work on them while they're positioned next to other cast members to see how they all fit together.
This is something that I'll likely work on a little bit at a time, but I wanted to do some of the basic setup work. Part of this included building a studio file with a height guide so that I can see how tall everyone is. The results were…different than I expected.
v0.302
continues to get more of the game working with the updated schedule system, along with some other fixes.
I wasn't really looking to tackling the clinic in depth, as I'm sure that's a section which needs some considerable time devoted to it, but I did want to see if I could get it functional again. That meant converting the scenes over to the new standard (should prevent errors when checking if Holly is available) and making sure it's using the new time variables instead of the old ones.
At the very least, it doesn't appear to be causing crashes for me now.
I've gone through a fixed a lot of scene criteria issues that were making weird things happen, like refusing Scarlet's quest-line causing it to jump ahead, instead.
Lots of other little "band-aid fixes" to help smooth things out for the time being, such as some tweaks to get the clothing manager behaving a bit better.
What's changed:
Updated engine to Ren'Py version 7.4.9. Maybe this will help for those having crashes?
Reworked save file update system for new format.
Converted clinic events over to the new system.
Combined each of Holly's clinic and beach chat events into single events with alternate intros based on location.
Fixed issue where clinic option was disappearing after visiting once.
Adapted 1 Rodney scene to show more appropriate background graphics when viewed at poolside.
Added time check to poolside hangout options to prevent evening events from occurring during the day.
Updated clothing manager to use new schedule system to tell what type of clothing is required.
Fixed bugs that were preventing game from acknowledging that the PC had met Chastity.
Minor review and update of scene criteria.
Fixed bug where declining modeling with Scarlet was firing off her secondary storyline.
Additional updates to room info widget to use new schedule system to show if PC is working in the next block or not.
Minor changes to clothes manager to use updated schedule variables when deciding which scenes to play.
Injected clothing manager into appropriate Day 4 events to help prevent redundant scenes.
Interns of Ecstasy Island v0.301
Changes:
Added missing "wevent_poolside_001_part2" event object.
Attempted to make Cynthia deliver swimwear *before* the first time PC can wear it, rather than after.
Cynthia delivering swimwear scene should now only play once.
Time remaining for morning preparation is now initialized *before* displaying the indicator.
Prevented PC from being able to change clothes if they didn't return to the room.
The PC playing with herself in front of the mirror now causes time to pass.
Misc typo corrections.
Interns of Ecstasy Island v0.300
Change list:
Updated engine to Ren'Py 7.4.6
Updated nearly all game variables, removing them from init blocks. (This was causing values to change whenever the game reloaded, breaking a whole lot of things. Game intro image of the PC should work properly now, thanks to this change.)
Most game events (304 scenes) have been converted to a class system. These events include work, free time, mini-work, after work, dreams, special events.
All existing scenes have been given priority levels to make sure less important scenes won't play until all of the more important ones have been seen.
All existing scenes have been tagged with the focal character of that scene (if any).
Some scenes have been given special tags to help categorize them (meeting an NPC, a body TF event, etc.)
A few two-part scenes have actually been split up into two parts now, rather than faking it as they did in the previous builds.
Code for playing scenes now automatically marks whether they've been viewed by the player (done manually by me prior to this).
Main game schedule has been completely rebuilt and has more consistent time tracking.
Special events for each time block can now be scheduled up to one day into the future, and the scene pickers check to see if something is already scheduled before choosing an event.
Partial work done on expanding how Club and Poolside free-time visits work. Guest approaches are now removed from the event themselves, and a crude "hangout" option has been added, allowing the player to choose to spend time with an NPC who has events available. More options to come.
Quick and dirty end game stat menu added. Displays indoctrination/obedience percentage and number of sexual encounters.
Room background now automatically changes based on time of day.
Room menu graphic tied into new system and show now show more-accurate time of day.
New Mallory sprite and meeting CGs. (Long overdue)
Interns of Ecstasy Island v0.291
Updated game engine to version 7.4.4
Corrected "Holly" variable name to "holly" to fix text interpolation issues
Stopped request for Cynthia to pierce PC's ears from repeating if rejected
Addressed continuity error – Scarlet meeting at club can only be seen prior to Hanson's arrival
Typo corrections
Interns of Ecstasy Island v0.280
New scene for first week: beach binoculars
Partial rewrite of morning body chance notice. New "avatar" graphics to go with them.
Quick rewrite of body transformation system. Hopefully better gradual TF.
Repair and additions to wardrobe system, including some error handling. Selections might actually be remembered now…
Major code cleanup and reorganization pass (to help Twi with porting to new backend system).
Bug fix: Revisions to Cynthia's morning code to restore dressing sequences.
Bug fix: Fixed bug preventing Cyn from properly assessing PC's bra size.
Bug fix: Wardrobe menu should default to unlocked (the player should choose when they don't want to see it anymore)
Bug fix: Prioritized 1st sunscreen event for Cynthia, so she hopefully won't miss it (resulting in the PC getting a sunburn).
Bug fix: Poolside May event should now recognize if you've noticed John but haven't met him.
Game "balancing": Added delay to prevent eye color TF from being done in one day.
Game "balancing": Halved chance of filler events, to give bigger events greater priority.
Release date: 2022-11-01
Genre: 3DCG, Male Protagonist, Lesbian, Oral Sex, Handjob, Female domination
Censorship: No
Developer / Publisher: UsagiTripleSix
Platform: Windows, Linux, Android
Version: 0.342
Language: English
Size: 274 MB
Download Keep2Share
Download Turbobit
Download Hitfile