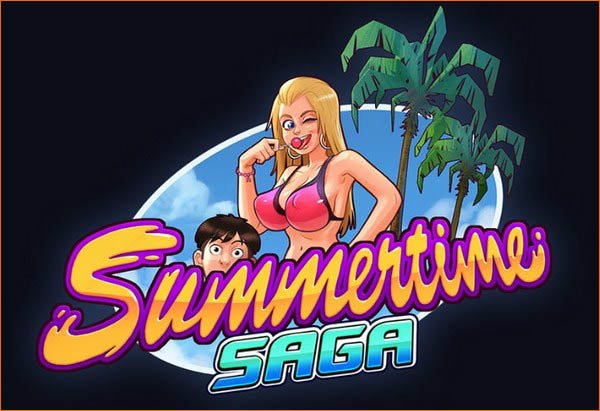 The father of the protagonist of the Summertime Saga game dies, leaving the family with a great debt to criminal structures. His death was suspicious, the police are starting an investigation. Now your hero has a lot of trouble, caring for loved ones, finding his father's killers, paying for college and choosing a girl for the prom. And all this is accompanied by violent sexual adventures!

Changelog
v0.20.16
New Content:
Expanded five existing scenes with six new animated positions.
Each position has new unique sex dialogue.
One has new lead-out dialogue too.
Added one new micro quest with an all-new scene and repeatable variant.
Improvements:
Scenes with variants will now indicate how many have been unlocked and the total available.
Bug Fixes
v0.20.15
New Content:
Seven new animations, spread over multiple events with initial and repeat dialogue variants.
New button dialogue for Katya and Khadne to flesh out their back-stories and access repeatable content.
Bug Fixes:
Fixed Daisy losing her arms and face when given a pizza in the garden.
Resolved replay leak in Roxxy's bedroom sex scene that could be used to unlock her boobjob scene.
Adjusted the frames of Odette's blowjob animation to correctly fill the screen.
v0.20.14
New Content:
Eight new animations spread over a variety of scenes.
Many of the scenes with first time and repeatable dialogue variants.
Bug Fixes:
Fixed issue in some dialogues where Jenny's arms and face could vanish.
Removed Anon's secret second penis from some scenes.
Restore a small section of dialogue missing from Diane's post-sex milking scene.
v0.20.13
New Content
– Six new animations (two with two variants).
– Integrated to help existing events feel more satisfying.
– Includes the addition of an existing character to the Cookie Jar.
Improvements
– Small improvements to posing during Eve's "Never Have I Ever" scene.
– Minor posing tweaks in Odette buttons.
– A slew of minor dialogue alterations for various scenes.
Bug Fixes
– Added missing assets to prevent an exception when milking Diane prior to acquiring the cow costume.
Summertime Saga 0.20.12
New Content:
Six new animations (three with at least two variants).
Including the restoration of an older, fan-favourite scene.
Several new mini-events, to trigger new animations.
Sploosh's ideal pizza party made a reality.
Improvements:
Rebuilt the milking minigame to improve fluid animation and performance.
Improved the transitions into and out of the milking minigame.
Allowed Diane to be milked during pregnancy and nursing for increased payouts.
Bug Fixes:
Removed long-disused variables from state machines, to reduce save sizes.
Fixed a case where Anon would not wave as scripted.
Added missing face for Chico and updated references to it.
Prevented Maria's apartment intro triggering at night which would lead to missing art.
Tweaked activation of Diane's first milk quest to avoid conflict with first conception attempt with Maria.
Fixed Diane's costume changing in the middle of her breeding scene and smoothed transitions.
Ensured Jenny's arms and face stay attached when handing over the photo from the attic.
Improved robustness of variant data seeding for the cookie jar.
Summertime Saga v0.20.10
New Content:
Five new repeatable standalone events with all new dialogue.
Five new animations (one with three variations) – one for each new event.
A sixth new animation to add a new angle for an existing scene.
Improvements:
Revisited some of Anon's confused/puzzled expressions in existing dialogue.
Improved and extended phone call visual effects to improve stability and versatility.
Polished the pregnancy minigame transitions and optimised the spin calculation.
Updated dialogues to restore the familial relationship between Jenny and Debbie.
Extended the recap mode to include main story conclusion and additional cookie jar unlocks.
Added loading image for when the game is starting up to desktop versions.
Bug Fixes:
Added Jenny's movie date scene to cookie jar, as originally intended.
Fixed various typos and made small improvements to existing dialogue.
Tweaked beach foursome to unlock one girl at time to unlock.
Corrected Daisy's positioning during her repeatable pregnancy announcement.
Resolved issue where Anon could only sire male offspring.
Added missing cutscene to variant dialogue during the Jenny & Roxxy event.
Updated old reference to the fertility lab being on the top floor of the hospital.
Prevented Eve taking off clothes prematurely when entering the tent.
Ensured Iwanka's outfit schedule is correctly reset at the end of her pregnancy cycle.
Fixed exception when viewing Roz's scene in the cookie jar after Connie's.
Summertime Saga v0.20.9
Bug Fixes:
Made it really painfully obvious that you need to CLICK THE HEAD.
Improved finale warning to highlight lock-in and that the player should check their stats.
Added stat fail toasts when failing minigames due to being under-levelled.
Fixed posing issue with Maria's casual outfit in some quests.
Prevented exception when trying to reach the Main Menu during the Muay Thai minigame.
Hid Anon's auxiliary penis during Iwanka's first blowjob.
Prevent Jenny's pregnancy pre-empting the main story event the night after the showdown.
Added dialogue to animation loops introduced in 0.20.8.
Resolved QTE arrows not displaying on touchscreen devices when spam tapping or having transitions disabled.
Prevented breaking out of Maria's pregnancy dialogue leading to missing arm issues!
Fixed a few typos.
Corrected reference to Anon in sewer minigame to reflect chosen name.
Added hint variant for touchscreen devices to the strength training minigame.
Fixed staging issue when attempting to complete some Tony quests in the evening.
Resolved issue with confusing hint when only sleeping at the beach house.
Prevented time skip during finale resulting in broken backgrounds.
Summertime Saga v0.20.8
Main Story – Part III
New Content:
The grand finale of the main story.
Five all new cookie jar scenes.
New optional interaction with Rump after his arrest.
Fully fleshed-out warehouse location.
Two new minigames and one rebuilt minigame with a new variant.
Gameplay Touch-ups:
Adding evening art to the exterior of Debbie's house.
Complete refactor of the Muay Thai minigame, and various fight events.
New Features:
A new "New Game" mode for players that have already played Main Story parts I and II.
Anon may now visit his Dad.
Improvements:
Remade the school's exterior such that it's now not always blurred! \o/
Restored unused and added missing inventory items and closeup art in Ms. Bissette's route.
Revealed the intended content of Anon's French romance poem. Zut alors!
Improved cop car button art on Debbie's driveway.
Baby chromosomes are now assigned at conception, not birth.
Bug Fixes
Summertime Saga v0.20.7
Bug Fixes:
Prevented error occurring outside Anon's bedroom after completing Deb's route.
Fixed graveyard locks to account for Diane's quests when arriving from her garden.
Added delay to visiting Tony for the first time if the pizzeria is closed.
Summertime Saga v0.20.6
New Content:
An eerie mini-route for a certain someone.
A brand new cookie jar scene with that person.
A spooky new location.
New Features:
Wait … did the moon always look like that?
A new collection of flag images for use with community translation packs.
Improvements:
Re-organised and trimmed down fonts directory and reviewed licenses.
Expanded font support for East Asian languages for use with translations.
Improved performance of the credits screen for low end devices.
Bug Fixes
Summertime Saga v0.20.5
Main Story – Part II
New Content:
The second of three main story parts.
Five new cookie jar scenes, two with multiple variations.
Melonia and Iwanka can now be impregnated.
Three new interactive puzzles/events.
It's now possible to access Tony & Maria's apartment.
The bank and warehouse locations have been extended.
Bonus content for Maria and Tina.
Gameplay Touch-ups:
Ever more evening variants for existing locations, including:
Debbie's Attic
Lifeguard Tower (Beach)
Maternity ward (Hospital Third Floor)
Treehouse
Warehouse
Yacht
Updated remaining character art and posing in day one.
All outstanding old-style cutscene transitions have been updated.
Consuela's quest line is now integrated with main story events.
Added new hint to tree on Raven's Hill when following up on the Church bell quest.
New Features:
Introduction of multiple new VFX to aid storytelling.
Improvements:
Improved positional rigging on a bunch of characters, including Anon.
Removed now disused third-party python packages.
Moved over to using the built-in python logger for improved resilience.
Removed some now unnecessary preference settings.
Updated Anon's face in some older cutscenes.
All cutscenes made translatable for language teams.
Small improvement to how minor characters are managed internally.
Location lock checking has been optimised.
Expanded and refactored Cookie Jar menus to handle more characters.
Improved how save migration and recovery works.
QA together with translation teams have addressed many outstanding typos and spelling errors.
More Bug Fixes
Summertime Saga v0.20.1
– Improvements:
– Added a notice for when a save has been migrated, and what to expect as a result.
– Bug Fixes:
– Updated Cassie, Ross and Rump cookie jar scenes to use correct backgrounds.
– Fixed Mia and Jane's cookie jar scenes to ensure they repeat correctly.
– Ensured achievement ping gets dismissed after viewing achievement list.
– Delayed ability to purchase beach house until after the main story intro.
Summertime Saga v0.20.0
New content:
The Main Story – Part One!
Added apartment complex location.
Maria, Josephine and Tina can now be impregnated.
Expanded Bank location.
Expanded Dealership location.
New minigame.
New minor characters: Tina and Nadya.
Gameplay Touch-ups:
Improved pizza delivery minigame experience.
More detailed backgrounds and evening variants for some existing locations, including: Beach, Glazies, Library, Planet Thiccness, Police station
Dimitri and Igor character art has been updated and expanded.
Dynamic backgrounds continue to roll out, providing more focused dialogue backgrounds.
New Features:
Support for scripted phone calls to add variety to character interactions.
Improvements:
Reworked phone to drastically reduce CPU usage and make parts translatable.
Reimplemented the pizza delivery minigame.
Optimised for consistent play-speed and smoother frame rates.
Made delivery more consistent; aim Anon's head at the front door.
Art has also received a touch-up and been re-exported to reduce seams.
Tuned the dynamic background code to be quicker and less memory hungry.
Better support for perennial backgrounds (i.e. those without time variants).
Stat check notifications have been moved out of dialogue to a separate UI element.
Passed stat checks are now also shown, so branches are a bit more visible.
Cutscene transition standardisation continues, with many more updated.
ATM performance has been improved.
The shower rota roulette has been improved to offer more flexibility.
Bug Fixes
Passwords/Cheat
Sister's Computer: BAD MONSTER
Porn Channel Sub: L6bv12R
Porn Channel Pass: 12345
Console Activation
! Note: Messing around in the console can cause serious bugs, only enable console if you
know what you're doing and are happy to take the risk.
1) From the main game directory navigate to the renpy folder, then open the common folder
2) Find the 00console.rpy file and open with notepad++
3) Search for the line: # If true, the console is enabled despite config.developer being False.
4) Edit the line below from: config.console = False to config.console = True
5) Save and close the file
To open the console in game press: SHIFT + O
To close the console type in "exit" or right click
Cheats
——
– Stat increase (+1, Max 10):
Increasing stats via the console WILL cause bugs, as events will not fire (especially
around the sister story line) so these instructions have been removed.
– Set Money:
player.inventory.money=99999
Release date: 2022-10-31
Genre: 2DCG, Animated, Male Protagonist, Dating Sim, Voyeurism, Exhibitionism, Incest, MILF, Masturbation, Sex Toys, Camgirl, Oral Sex, Titfuck, Footjob, Handjob, Anal Sex, Vaginal Sex, Virgin, Group Sex, Big Ass, Big Tits, Footjob, Groping, Stripping, Twins, BDSM, Lesbian
Censorship: No
Developer / Publisher: DarkCookie
Platform: Windows, Linux, Android
Version: 0.20.16 + Inc Patch + Save + Mods + Walkthrough
Language: English
Size: 1.29 GB
Download Keep2Share
Download Turbobit
Download Hitfile