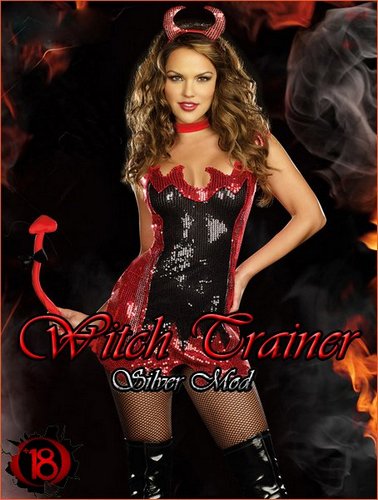 One of the most popular erotic simulation games is getting a sequel! The Witch Trainer – Silver Mod brings new locations, scenes, maps, and more to Akabura's creation. The plot, as before, develops around you, the director of the academy engaged in the education of girls, turning them into experienced sex slaves who can give a man a heavenly pleasure!

Changelog
Witch Trainer Silver v1.45.3
Hello everyone,
I hope you're enjoying the latest update! We've been working on addressing some pesky bugs, and it took us a few days to smooth everything out, but we got there in the end! Here are a few mentions of what the new patch brings:
Tonks hangouts are now fixed, and we've resolved the issues with the new multithreading solution.
Introducing a new toggle for autosaves, allowing you to turn them off.
Various minor tweaks and fixes.
Witch Trainer Silver v1.45.2
Hey everyone,
We've got some news to share with you today! The Android version of the game is finally being released as we speak. Now you can enjoy the game on your Android devices without having to carry a computer around.
But that's not all. We've been working hard to further improve the performance of the game on both PC and Android devices. Thanks to the implementation of some fancy programming tricks, the game now runs smoother than ever before.
We've fixed all the bugs that were reported by our awesome community. We've gone through each and every one of them and made sure they won't bother you any more.
This new patch is save compatible with the previous version of the game (1.45.1), so you won't lose any progress. You can simply update to the latest version (1.45.2) and continue your journey exactly where you left off.
We hope you're as excited as we are about these improvements. Your feedback and support have been invaluable, and we're committed to making the game the absolute best it can be. So grab your Android device or fire up your PC, update the game, and get ready for some sexy time, but better!
Stay tuned for more updates, and happy gaming!
v1.45.1
Cho's storyline now extends beyond the quidditch phase and incorporates several CG scenes, some of which we've previously teased on Patreon over the past few months.
A complete overhaul of the modding tools and APIs, making modding simpler and more accessible to a wider range of people, even those with limited programming knowledge.
The game's performance issues have been resolved, so it should no longer experience any hanging or stuttering.
The game's Engine has been updated to Ren'py version 8.1 and Python 3, which has also undergone a significant revamp, enhancing performance and compatibility. Additionally, it boasts improved built-in methods and introduces new functionality.
The events system has been completely rewritten with modding support.
Hermione's content has received a bunch of enhanced dialogue and improvements.
Witch Trainer – Silver Mod v1.44.2
General
Added new Christmas-themed decorations :
Santa's naughty list poster:
Interact with the poster to see who's currently the naughtiest person at Hogwarts.
Ceiling garland.
A window view of Santa's sleigh.
Writing & Storytelling
Added a new Mirror Story – 'Genie's Christmas Wish' with special rewards (Outfits and decorations).
Hermione
Added Reindeer Outfit.
Added New Bunny-Girl Outfit items.
Luna
Added Reindeer Outfit.
Added Bunny-Girl Outfit.
Cho
Added Reindeer Outfit.
Added Bunny-Girl Outfit.
Tonks
Added Santa Outfit.
Genie
Added Santa costume for Holiday themed mirror stories.
Improvements & QoL
Proofread some older mirror stories during testing, cringed, and then improved the writing (Mainly "A bad time to disrobe").
Tweaked Hermione "squirting" art for consistency.
Minor writing fixes.
Improved poster enlarging.
Refactored "Santa" speaker to utilize a single `gen` speaker and applied the change to all affected events.
Improved base Genie model, the default robes outfit and image creation code.
Implemented z-order control for specific clothing layers
Fixed Tonks' missing shading on Tonks' "normal" breasts.
Bug Fixes
Witch Trainer – Silver Mod v1.44.1
Writing & Storytelling
Added purchasable "Box-o-fun" gift item to the item store.
Added new madam Mafkin chit-chats for new outfits.
Added new wardrobe chit-chats for new outfits.
Added fan-made mirror story "Blueballing Bad" by NotTera.
Hermione
Added new animation layers for the masturbate sections of "Dance for me" favour.
Added new gift item event chain for Hermione consisting of multiple paths, endings and variations, with modular dialogue tied to character states, and writing variation for repeatable events:
Generic:
2 fail events
Personal Path:
Low tier: 4 endings, including doll scenes.
High tier: 3 endings, including CG scenes.
Public Path:
Low tier: 1 ending, including doll scenes.
High tier: 6 endings, including CG scenes.
Added CG scenes and writing to the following public favours:
"Flirt with teachers!":
Professor Flitwick perving during class.
"Flash your tits!":
Flashing breasts to a Hufflepuff student.
Added Vibrator Outfit (Unlocked through Box-o-fun event chain)
Added miscellaneous clothing items:
Tie between breasts.
"Better call Genie" tattoo.
Added new doll layers:
Wet, wearing vibrator in panties.
Wet, wearing panties only.
Wet, wearing vibrators.
Squirting, wearing vibrators.
Post-squirt, wearing vibrators.
Tonks
Added Mechanic Outfit.
Added Businesswoman Outfit
Improved Auror Outfit:
Replaced choker with a new one.
Partially redrawn the coat, fixing visual inconsistencies.
Added Nicknames for:
Genie:
Lover.
Tonks:
Slut.
Whore.
Slave.
Susan
Added school robes.
Quality of Life:
Changed Tonks Lady D. Dress category from other to dresses.
Improvements:
Added list support for the Doll equip function.
Added colour temperature shader.
Added return stack fix function.
Refactored history screen:
Improved styling.
Improved performance.
Refactored Xray displayable:
Added support for image references, including LayeredImage and LayeredImageProxy.
Added the ability to use show statements as a proxy for Xray displayables.
Optimized code for better performance.
Removed itertools dependency.
Removed redundant load fix functions.
Updated the engine to version 7.5.3
Partial conversion of the codebase to be Python 3 compliant.
Added a 'skip interaction' menu option to the vibrator event for when the player does not wish to proceed just yet, or just wants to see if she agrees to it.
Audio:
Added new sound effects:
Vibrator sound loops.
Drop item.
Generic click.
"Sunny day" ambient loop.
Added new audio channel.
Bug Fixes
Witch Trainer – Silver Mod v1.43.2
Genie
Added new model.
Added 4 expressions.
Added simple outfit system.
Hermione
Added purchaseable butt plug gift item.
Moved butt plug event trigger from shaming menu to gift item menu.
Added wearable butt plug clothing items, unlocked through gift event.
Susan
Added new model.
Added 43 new expressions.
Added heavy and light cum layers (Facial).
Added new clothes:
Lingerie Outfit
Sports Underwear
Casual Muggle Outfit
School Uniform (5 variants)
Basic underwear
Added new Outfit related chit-chats.
Added new icons.
Posed dialogue.
Luna
Adjusted and Re-imported Police Uniform Outfit to make belt and badge optional.
General Improvements:
Updated engine to Ren'py version 7.5N
Updated code to support new version of the engine.
Added translation support
Added web updater:
Updates can be checked for manually, or automatically.
Updates are applied automatically after receiving confirmation from the user.
Updater supports Mac, Linux, and Windows devices.
Added extensive lint functionality:
Character argument testing
Grammar testing
Writing style testing
Text tags testing
Added seen and played flags to Mirror of Erised interface.
Added 'Mute the game when minimized' preference.
Added skipping start/end interaction callbacks support.
Replaced all character label calls with proper Ren'py character implementation.
Rewritten expression editor to add support for live node editing and all character support.
Added persistent Blush, Tears and Hair colour (Tonks only) toggle in expression editor.
Improved and simplified file structure.
Resampled audio files and converted them to OGG VORBIS format.
Considerably reduced file sizes for all platforms.
Added event queue system.
Unified game name and its abbreviations across files.
Default to GL2 renderer on all platforms to avoid bugs with Angle wrapper. (if you notice a performance regression on AMD hardware, feel free to switch back to Angle wrapper (DirectX))
Platform specific files are no longer included on platforms where they aren't required.
Performance:
Added multi-threading support to parts of the game that could benefit from it.
Removed loading screens (No longer necessary)
Disabled focus detection for Doll class objects to improve responsiveness of mouse events where it matters.
Reduced the number of Null displayables in Doll class objects
Reduced the size of assets, improving loading times.
Improved tooltips by reducing overhead and moving calculations into transform function.
Optimized office animations.
Optimized screens.
Optimized icon generation for clothing items.
Other optimizations introduced or allowed by the updated Ren'py engine.
Added more skin shading on Susan's school unform variants.
Adjusted shirt only variants outlines for Susan School uniform.
Bug fixes
Witch Trainer – Silver Mod 1.42.2
Bug Fixes
Added a reminder to save the game before the Gryffindor match if one wishes to replay the previous favours.
Adjusted writing for when aquiring the Quidditch Guide book from the twins.
Fixed Madam Hooch Chibi peeping in on private sexual moments.
Fixed scheduling tutorial repeating itself forever when tutorials are turned off in the options.
Fixed overlapping Chibis during the Gryffindor match, preventing Tonks from stepping on Snape's cloak.
Put a nail into accidental baldness during quidditch games.
Added an event pause for Hermione's intro event to prevent two events happening back-to-back.
Minor grammar and spelling fikses.
Witch Trainer – Silver Mod 1.42.0
General
Added alternative Quidditch Pitch location.
Updated saves compatibility to support saves from older game versions.
Updated credits.
Updated Ren'py Engine to version 7.4.11.2266
Writing & Storytelling
Changed Cho's character unlock to earlier in her introduction.
Added hints for Cho's intro, Pre-Slytherin and Gryffindor match events.
Added default nicknames choices for all characters.
Rewrote and restructured Tonks' clothing events.
Changed Cho's public favours unlock requirements.
Teased a certain redhead.
Cho
Hufflepuff Match:
Added CG scenes.
Slytherin Match:
Updated old CG scenes with new artwork.
Added additional CG scenes.
Added public variant writing.
Gryffindor Match:
Added intro event.
Added pre-training events.
Added training events.
Added pre-match events.
Added match events.
Added post-match events.
Added CG scenes.
Personal Favours:
Added 'Talk to me' (Tier 3)
Added interactive blowjob event with CG scenes.
Added sex event with CG scenes.
Added chit-chats for each character tier.
Added cum layers for locations: Breasts, Vagina, Chest.
Added new nicknames, and updated old ones.
Updated 'Sitting on a broom' pose for all Quidditch events with new artwork.
Added sports underwear.
Added Panties in hand.
Added new arm and leg protectors.
Relocated two previously event-only outfits into outfit store.
Note: All of the added CG scenes are animated.
Hooch
Added Madam Hooch into the game. (Side character)
Added chibi animations.
Added Doll images.
Added Flying instructor outfit.
Luna
Added Lionhead event specific clothing.
Added Casual Outfit.
Added School Robes.
Snape
Added nicknames.
Improvements & QoL
Improved character blinking animations.
Added new simplified Chibi class constructor.
Improved Doll transitions when closing gift menu's.
Audio
Added new music for Madam Hooch.
Added new sound effects.
Interface
Added new shake effect for displayables.
Added new transition effects.
Added cursor controlled Xray-like shader and displayable.
Removed 'blinking animation' options toggle. (Characters will always blink)
Performance & Optimisations
Allowed camera to zoom-in displayables up to 5x their original size.
Refactored chit-chats for all characters.
Removed unreachable vars.
Enabled mip-maps for Camera displayables.
Bug Fixes
Fixed Cho not wearing the Quidditch clothing if you opened the Training menu through her talk option equivalent.
Fixed Cho's nickname choices disappearing after certain events.
Fixed missing character expressions during "flying choices" in Hufflepuff lead up events.
Fixed Hermione walking all over Cho during the intro.
1.41.4
General
Added new Christmas-themed decorations :
A fully programmable set of LED lights:
Animation settings
Brightness settings
Hue settings
A Christmas Wreath.
A Gift box.
Added a new 'Boxing Ring' room.
Added error handling to mods API.
Added support for Non-Latin directory names.
Writing & Storytelling
Added a new Mirror Story – 'A White Christmas' with special rewards (Outfits and decorations) and a new location drawn specifically for this occasion.
Adjusted Astoria's intro events to be more upfront about effects of Imperio spell and to showcase Tonks' enjoyment better.
Adjusted writing for some gift items for Cho.
Adjusted Hermione's 'Talk to me' section with Tonks being present as it was ending too abruptly.
Hermione
Added Wrestler Outfit.
Added 'Masturbate' chibi pose.
Added 'Squirt' layers for 'Masturbate' doll pose.
Tonks
Added Coach Outfit.
Genie
Added 'Masturbate' doll pose.
Added 'Shocked" and "Normal" dick holding chibi poses.
Snape
Added chibi pose.
Added doll pose.
1.41.1
Improvements
Added a save updater modal popup informing about performed update.
Added a new experimental cheat that will let you set Hermione's breast and ass growth stages permanently.
Added new dialogues during Hermione's Breast Expand events to account for the (lack of) clothes.
Added naked variants for Hermione's Potion Drinking, Potion Sniffing, and Potion Holding chibis.
Bug fixes
Fixed Tonks' Lady Dimitrescu gloves layering issues.
Fixed syntax errors for Ass Expand events.
Fixed bad label jumps for Hermione's Tier 4 public request handjob events.
Fixed Cat potion events mentioning undressing when Hermione is already naked,
Fixed inventory bug causing tabs other than gifts or potions becoming inaccessible.
Fixed Hermione's Maid Events crashing due to a syntax error.
Fixed missing pre-splash on android.
Fixed save updater sometimes not updating the save when loaded callstack was broken.
Fixed CG characters becoming corrupted or transparent due to a incompatible image check.
Fixed Luna's hair item being inaccessible for players who have already completed Luna's storyline.
Fixed spelling.
Witch Trainer – Silver Mod 1.41.0
General:
Added compatibility for saves made with version 1.40 or later.
Added Snape's Office:
Snape now has his own office where he will spend the evenings.
The office is a visitable location.
Similarly to Genie's Office, you can interact with the environment.
Added Potion Brewing:
From now on you can brew magical potions, each one having unique effects, and events for both personal and public variations.
Added potions (so far):
Breast Expansion Potion
Ass Expansion Potion
Polyjuice Cat Potion
Polyjuice Luna Potion
Added common ingredients (so far):
Bat Spleen
Animal Hair
Dried Nettle
Bicorn Horn
Fluxweed
Knotgrass
Leeches
Pufferfish eyes
Added unique ingredients (so far):
Lock of Luna's hair (Obtainable from event)
Added quest items:
Experimental recipes
Writing & Storytelling:
Added intro events for Snape's Office.
Added potion events:
Each potion event is split across medium, and high corruption stages.
Each potion has multiple variants and additions based on progression stages and character states. (if Hermione has ever drank a potion before, if she drank this exact kind of potion before, etc)
Added nickname variables for Hermione's final events.
Expanded Hermione's 'Maid' events to include states such as Gryffindor being in the lead, or low whoring level.
Expanded Hermione's Tier 3 'Strip for me!' favours to include character states such as clothes, additionally expanded the intro events, and added the ability to skip the strip section and go straight to masturbation if she's already pretty naked.
Expanded Hermione's Tier 4 'Grope her!' favours to include some light petting.
Expanded Hermione's Tier 3 and Tier 4 'Show me your Panties!' favours to address progression issues, previous events were moved up a tier, and completely new writing has been added for Tier 3, with expanded Tier 4 writing, and checks for character states.
Expanded Hermione's Tier 2 'Admire her breasts!' favour to mention previous logical states such as the fact if Genie refused giving her points or not.
Added chit-chats for newly added outfits.
Expanded Hermione's 'Suck it!' favour events to include the fact if Hermione kissed someone before (public favour), or not.
Changed whoring level check and adjusted writing for Cho intro events, where you ask Hermione to stop spreading rumours about Cho and stop her Quidditch equality movement.
Added chit-chats and reactions to all Luna's outfits.
Hermione:
Added Cat-girl Transformation. (3 Stages)(Potion)
Added Breast Transformation. (3 Stages)(Potion)
Added Ass Transformation. (3 Stages)(Potion)
Added 'Drinking Potion' chibi.
Added 'Sniffing Potion' chibi.
Added 'ass groping' chibi variants for various clothing states. (nude, botomless, topless etc)(Over 30 new frames in total)
Added 'breast groping' chibi variants for clothing states. (Over 20 new frames in total)
Added 'jerk off on Hermione' chibi variants for clothing states. (Too many to count)
Added 8 new CG scenes for potions.
Luna:
Added Party Dress Outfit.
Added Flight Attendant Outfit.
Added Muggle Set Outfit.
Added Summer Set Outfit.
Added 6 fully colourable tattoos.
Cho:
Added Tunesquad Outfit. (based on a certain animated movie)
Tonks:
Added One-piece Swimsuit Outfit. (3 variants)
Added redrawn bikini underwear.
Added Wardrobe Chit-chats for Outfits
Snape:
Added 'Snape Working At Desk' chibi.
Added 'Snape Chilling At Desk' chibi.
Susan:
Added a new nickname.
Quality of Life:
Twins will give you any interest they own before any other dialogue takes place.
Replaced "-Give gift-" menu option with "-Give Item-" menu option and made it possible to give other types of items to characters.
Snape will give you one random ingredient after you beat him in cards.
Added the ability to open multiple card packs without having to re-enter the menu.
Cheats:
Restructured cheats and their categories.
Added 'Get all Ingredients' cheat.
Added 'Get all Potions' cheat.
Added house points cheats for each house. (instead of just Slytherin as previously)
Wardrobe:
Added the ability to randomise outfits and their colours. (optional)
Added the ability to supress warning messages and prompts. (optional)
Added the ability to apply same item colours to all outfits containing this item. (optional)
Overwriting an outfit will no longer delete its previously set scheduling, instead scheduling will be inherited by the outfit replacing it.
Hermione will take her robe off (if equipped) to not obscure the view during certain events.
Custom character studio background will now be green (screen) by default instead of red to allow easy clipping in graphics editing tools.
Added tutorial triggers to more places, where it makes sense and is possible for the player to reach.
Witch Trainer – Silver Mod Interface:
Madam Mafkin asked that her Outfits be displayed in a more orderly fashion:
Significantly enlarged outfits previews.
Added new sorting option that will sort outfits by their 'lewdness' score.
Improved text displayable.
Added 4 new potion icons.
Added 9 new ingredients icons.
Added Snape's Office on the map.
Added potion brewing interface.
Added potions brewing tutorial.
Added daily house points animation displaying how many points each house has received.
Added dark overlays for menus where they would benefit from a more contrasty background.
Added support for potions.
Improved tooltips animations and untied it from FPS so they appear more fluid.
Improved transitions for 'Grope her!' favour events.
Increased the size of wardrobe icons and adjusted paddings.
Updated descriptions.
Updated The Quibbler icon.
Updated main menu interactive links.
Improved overall quality of displayed icons.
Removed prompt asking if you are sure about quitting in main menu and during splash screen.
Witch Trainer – Silver Mod Audio:
Added new music for Snape's Office.
Added new sound effects.
Bug fixes
Release date: 2023-07-27
Genre: 2dcg, Akabur, Anal Sex, Big Ass, Big Tits, Blackmail, Corruption, Exhibitionism, Fantasy, Groping, Group Sex, Handjob, Humiliation, Lesbian, Male Protagonist, Masturbation, Mind Control, Oral Sex, Parody, School Setting, Sex Toys, Sexual Harassment, Spanking, Stripping, Titfuck, Trainer, Vaginal Sex, Voyeurism
Censorship: No
Developer / Publisher: Silver Studio Games
Platform: Windows, Android
Version: 1.45.3
Language: English
Size: 623 MB
Download Keep2Share
Download Turbobit
Download Hitfile