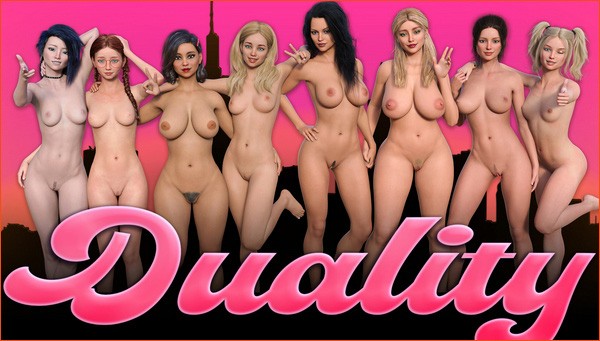 In Duality, you take the role of a boy freshly expelled from high-school. After moving to another city you'll get the chance to meet all sorts of girls. Interact with them freely throughout the day, and watch your relationship evolve according to your actions. Will you be a charming seducer or a ruthless oppressor?

Developer Notes
Thank you for playing Duality!
Duality — this is my first project as a game developer.
It ain't much yet, but hopefully you'll get a nut or two out of it.
Here's a few things to note:​
— For the sake of including sexual content on release, the game features some «late-game» content, but it's missing some scenes that would lead to it. In the future, characters will be developed in a more linear manner.
— While the game is sandbox in nature, girls will have a story on top of their daily routine, that will develop hand in hand with their relationship with you. As you increase their stats, new scenes will unlock at key points of a girl's relationship, reflecting their feelings towards you, whether good, bad or lusty. I plan to have 10-15 story scenes per girl.
— All scenes will evolve depending on the girl's relationship with you. For example, if a girl didn't welcome your advances early on, she might once her feelings are high enough. With high respect, she may simply not fight back, or if her perversion is high she will give in to temptation. Of course this will depend on the girl's personality; a shy girl will react differently compared to a bold one or a promiscuous one.
— I started this game with no knowledge whatsoever in programming, 3D art, writing, and pretty much every skill involved in making this game. Now I'm much better then when I started, and this shows in the game. Earlier scenes are lower quality compared to the latest ones. Future scenes will of course be of even higher quality, as I keep progressing my abilities.
I'm hoping to make adult game development and 3D art my full-time job, and so far that's how I've approached this project.
PLANNED TAGS AND CONTENT
My plan is to include a wide variety of tags and genres of porn.
NTR: There are currently no other male characters in the game beside the MC. I have no plans of adding any for the time being, so NTR won't be part of the game. I'm planning to include lesbian scenes for all characters, but I don't think that's considered NTR, right?
More commonly appealing tags will likely be added first, whereas very niche tags will be made later.
THANKS AGAIN FOR PLAYING <3 MUCH LOVE!
Changelog
v0.1.6b
Content:
New story scene for June.
New night/sleep scene for June.
New photoshoot segment for June.
New «daily routine» scene for Tiffany.
New Perversion outcome for Ruca's massage scene.
Features:
June's first story scene will be split into a cooking scene and a photoshoot scene, after the player views it for the first time.
Bugfix:
Fixed a conflict between Angie and Charlee's store scenes, which would cause Angie not to appear.
Minor bugfixes.
v0.1.5b
Features:
New, sleeker textbox.
Added the ability to disable the «Horny Meter» (from the phone's settings menu).
Added cheats for June, Tiffany and Charlee.
Bugfix:
Location buttons and interactable object/people no longer intersect.
Fixed the spelling of «yeah» and «as well».
The phone can no longer be brought up while the map screen is open.
Minor bugfixes.
v0.1.5
Content:
New story scene for Charlee.
New Perversion scene for Tiffany.
Intro for the new workplace.
Customer Events for June, Ruca and Angie (for the new workplace).
~310 new images and animations.
Features:
New workplace where MC can earn money.
The player will now be informed that the school does not have any content yet upon his first visit.
Added a button to hide the textbox on android (below the textbox).
Bugfix
v0.1.4b
Content:
New lengthy massage scene for Ruca (covering both Feelings and Respect paths).
New Perversion scene for June.
New bathing scene for June.
A total of ~330 new images and ~22 new animations.
Features:
Added a walkthrough for June.
Bugfix:
Fixed a bug that had a small chance of preventing the scene where the girls move to June's new house from triggering.
Minor bugfixes.
Fixes a couple of minor bugs and corrects a few image glitches.
v0.1.3c
Update notes:
v0.1.3c removes the requirement of getting Tiffany's pictures to progress through the «new house» scenes and also drastically reduces the time between them.
This version also introduces the ability to skip phone messages.
Features:
Aquiring Tiffany's pictures is no longer required to progress through the «new house» events.
Greatly reduced time between the «new house» scenes.
Added the ability to quickly advance phone messages by clicking or via the skip feature.
Bugfix:
Fixed a bug that left the messages screen displayed after closing the phone when messaging Ruca.
Fixed a bug that prevented the scene where MC moves to the new house from triggering if the player selected the «I can't afford it…» option during Tiffany's flash segment in the scene where MC's first visits the new house.
Fixed typo's.
Minor bugfixes.
v0.1.3b
This version brings new content for Ruca, June, Tiffany and Angie, aswell as a new house where MC can live. If you find any bugs, feel free to report them to me via Discord or by commenting on this post.
Fixes all bugs reported during early-access, adds some previews to the new house and better walkthroughs.
v0.1.3
Content:
New scene where Ruca meets Charlee and Tiffany.
New scene for Ruca.
New scene for June.
New scene for Tiffany.
New scene for Angie.
Ability to «Dream about Ruca» when sleeping in MC's bed at her apartment.
A total of ~410 new images.
Features:
Whole new house for MC to live in.
Updated ren'py version to the latest one.
Bugfix:
Possibly fixed a crash some players where experiencing when starting the game (suspected cause being the specific version of ren'py previously used).
A few minor fixes.
Duality v0.1.2c
Bugfix:
— Fixed Ruca's shower scene when choosing between «Horny» and «Freaky» with Quick-Scene enabled.
— Possibly fixed a crash some players were experiencing when starting the game.
— Improved phone messages usability.
— Removed the option to ask Tiffany for new photos after MC aquired all of them.
Features:
— Viewing Ruca or Angie's walkthrough no longer prevents rollback.
— Better looking walkthroughs for Ruca and Angie.
— Added a counter for in-game days passed (in the phone's main screen).
— Added difficulty choice after viewing the tutorial.
UPDATE NOTES:
v0.1.2c fixes a few bugs and adds some minor features. I does not add any new scenes, so if you already played all the content present in v0.1.2 you can skip this update.
New content is coming mid/late July.
Duality v.0.1.2b
Content:
New story scene for June, Tiffany and Charlee.
New perversion scene for Ruca.
New shower scene for Ruca.
New outcomes for Ruca's dinner scene.
A total of ~260 new images.
Features:
«Quick Scene» mode for repeatable scenes.
Ability to replay unrepeatable scenes.
Redone «Horny Meter» with pulsating effect.
Improved all animations by changing the timings.
Added a money cheat.
Ability to use cheats, view walkthroughs and change difficulty mid-scene.
Improved Ruca's walkthrough.
Redone time-skip button.
Bugfix:
Tweaked heights/weights (in the phone) to better reflect the models.
Fixed phone's settings menu and messages while viewing a scene.
Tweaked some stat-checks.
Fixed savegame compatibility code.
Fixed some scenes that redirected to the wrong label.
Fixed Ruca's gym scene behavior choice triggers.
Other minor fixes.
Release date: 2022-05-01
Genre: 3DCG, Point & Click, PoV, RPG, Sandbox, Male Protagonist, Incest, Corruption, Voyeurism, Milf, Male Domination, Female Domination, Groping, Sexual Harassment, Sleep Sex, Teasing, Big Ass, Big Tits
Censorship: No
Developer / Publisher: Per<3rsioN
Platform: Windows, Linux, Android
Version: 0.1.6b + inc patch
Language: English
Size: 2.46 GB
Download Keep2Share
Download Turbobit
Download Hitfile