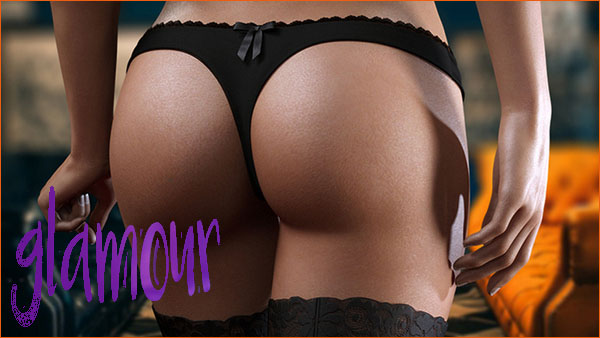 Glamor is an erotic game a new creation of the author of the popular game Big Brother! Main character a guy or a girl, your choice from a small town turns 18 and it's time to go to college. Thankfully, they get an opportunity to move into big city and apply into a new experimental college. New live, new opportunities, and no oversight from an overprotective mom! Turns out main character doesn't even have to pay for the college! All they have to do is sign a strange contract and agree to follow college rules, breaking which might have grave consequences, up to being expelled… And not only that, the rules might change in the future, too…

Changelog
Glamour v0.57
0.57 is finally done. Traditionally, it turned out to be bigger than we planned it originally. We couldn't do it in one month, but we also didn't want to cut anything out, so we had to delay. At least we've managed to finish it in May.
We're not going to describe the events of 0.57 in too many details in this post, just play the game and find out for yourself. In short, Karen sends Max to get closer to Maya, which leads to some great changes in the biology class.
The update is mostly focused on and around the classroom, but the lessons themselves are pretty varied, most of the class gets directly involved in all kinds of events.
The events become available right after you finish the College quest from the previous updates. The quest log has a progress tracker for convenience.
Oh, and we've finally added music into the game. We hope you like our choice.
Glamour v0.55.2
The yoga storyline picks up where we left it off. It is now 27 events long (0.55.1 already had 14). It is the longest chain of events in the game by a wide margin, both when it comes to the number of events and the image count.
Andrew gets his massage, seven events in the chain.
A new storyline dealing with unforeseen consequences of the previous story.
0.55.2 has three storylines. Two new ones (we count Andrew massage as a new one, even if it technically started in 0.55.1) and the second half of the yoga class storyline.
By the way, we haven't mentioned it in our 0.55.1 post, but all adult content with all guys in 0.55 is entirely optional. Half of the events in the yoga class have two variants, the one where Kate agrees to do something, and the one where she turns them down. One event has over 80 steps if you count all variants of that event. Only Sophie and Alice are irresistible for Kate, since she likes them and has no reason to turn them down.
Kate hasn't gotten as many updates as Max recently, so we've tried to make this update as good as we possibly could.
Glamour v0.55.1
Is a massive update. It has over 310 images, for example. We've already rendered and edited all of them, so the only thing left to do is text. We've decided not to cut anything out of 0.55, so we'll just release the rest of it with a slight delay.
It's all about Julia's fitness club. There is a series of events in the yoga class, the locker room, the shower room, and Julia's office.
Glamour 0.54
Today we're releasing 0.54. Let's skip the long intro and jump right into the change log. Max will record a bunch of clips all over the house with all kinds of characters, including:
Lisa during breakfast
Lisa and Kira by the pool
Kira and Ann by the TV at night
Alice by the car before college
Lisa in the morning while she's helping Ann to cook breakfast
Lisa and Olivia by the pool
Alice and Ann by the pool
Kate during dinner
Each one is a short series of events (between two and four), with the last one in the series always being periodic.
We tried to make events as varied as possible, so the update has over 220 images (which is well above average).
Happy holidays, everybody! Have a good time!
v0.53
We've been able to finish 0.53 this month without delays.
It is focused on Max and Lisa's adventures in the medical office with Zoe.
The new events require certain progress in the Karen quest, after which Lisa will periodically ask Max if he wants to go to the medical office somewhere between 14:30 and 15:50. Every other day or so. If Max turns her down, she'll leave him alone for several days. As usual, the invites will become less common once you go through the unique events and if Max turns her down, she'll leave him alone for about two weeks.
New feature
As we've mentioned in one of our previous posts, we've implemented a quest log change. From now on, unlocking new steps in the quest log is marked with a small indicator on the quest log icon.
If you open the quest log, it will display which quests have unlocked new steps. The indicator goes away once you read the new quest log entry. This feature is especially useful at the start of a play through when you unlock a bunch of quests early on and for whenever you get stuck.
We're also planning to implement a UI element that would tell you the percentage (including decimals) of your total progress. It will help the players to learn if they've unlocked all content or if there's still something to do. It will also help new players with understanding the scope of the game.
v0.52.2
The second part of 0.52 is finally done. The amount of content is roughly the same as 0.52.1
This time, Max and Lisa get tutored by Veronica at her place. There shouldn't be any conflict with Karen's lessons, both should happen every other day, so there's always a lesson every day.
v0.51
Karen visits Max's house to discuss important future developments. Things will escalate from just talking.
Max will meet Candy. This story will be very different from Kate's.
Karen will invite Max in her office to show him the ropes. This event will have three options. They won't branch the main story and will only affect a small self-contained storyline. For now, the choice has no consequences, you can talk to Karen and replay the event as many times as you want in order to see all three options.
Glamour 0.50
We can finally say the work on 0.50 is done and you can play the update. Kate updates keep taking a lot of our time and this one is not an exception.
So, about 0.50. The entire update is revolving around the cheerleading squad, in one way or another. Now that Kate has proven herself, it's time for other characters to show their resolve and willingness to do what it takes to join the squad. But don't worry, Kate won't be left behind. She'll be able to watch, and optionally join in on the fun.
This is one of the longest chains of events we've done in one update. There are four periodic events at the end.
We hope you enjoy our game!
v0.49
0.49 is focused on Kira teaching Max and Alice the tricks of the trade. There are two series of events, Kira will be switching between the lessons. One for Alice and one for Max, back and forth, back and forth.
This will also lead to a new punishment for Max and Alice before going to sleep.
v0.48
The first event in the story that kicks off the whole thing
Late night movies with Lisa after midnight (3 new events)
Kira sunbathing between 12 and 13 when Ann's home (3 new events)
Kira sunbathing between 12 and 13 when Ann's isn't home (3 new events)
A random event during the day when Alice is punishing Lisa (3 new events)
Alice sunbathing when Ann is around (2 new events)
Ann smoking after midnight (2 new events)
Ann cooking breakfast (2 new events)
Ann taking a bath after 20:00 (3 new events)
Ann doing yoga after 17:20 (3 new events)
Kira watching TV after 1:00 in the living room (2 new events)
Max sleeping in Ann's room (3 new events)
Max sleeping in Alice's room (2 new events)
Alice smoking by the pool when Ann's not at home (3 new events)
A new punishment event
36 new events in total, most are pretty long. As we've mentioned above, if there's more than one event, the last one is always periodic.
Starting with 0.49, we will try to make smaller, but more frequent updates. The poll about 0.49's focus should be up soon. Since 0.48 changes so many things around the villa, we recommend you playing through it before you vote on 0.49.
We've changed the game's UI for importing and exporting save files. Not only you can migrate your progress without having to move individual save files manually, there's now an option to move all of your save files at once.
Glamour 0.47
We've said enough about developing 0.47 in our previous posts, so let's just skip to the things we've added in our latest patch.
There's a short series of events in the college swimming class, after which Max unlocks the option to visit Julia and Kate's house
Once unlocked, Max will be able to visit them every day between 15:30 and 16:00. You can go to their house from Max's villa, or you can stay in college until it's time to go to Julia and Kate's.
A series of events on the couch in the living room.
A series of events in the backyard.
A series of events in the basement.
Max will also get to meet Maria, Julia and Kate's neighbor. She doesn't have any content in 0.47, but we can develop this story if you vote for it.
Fixed bugs
Glamour 0.44
Another update is in the bag. We've made plenty of content and almost all of it is explicit.
Ann lost her job and now spends her time at home. Which caused plenty of changes around the Villa.
Kira is now more likely to spend her lunch break at home. Ann joins her by the pool, who in turn can be joined by Max.
Now that Alice is officially the sole provider, she holds even more power. But since 75% of our patrons voted to improve her relationship with Max, she doesn't get out of her way to make his life miserable. New events when Max sleeps in Alice's room.
New events in Max's room when Alice punishes Lisa.
Olivia delivers on her promise. Wait until she stays overnight and go to your room.
Ann can't find a job, so she asks Alice for one. Max uses this opportunity to spend more time with Ann.
You can now skip events with Alice+Lisa and Lisa+Olivia if you've already seen all of them.
v0.43
New yoga events. Alice will finally stop ruining everything.
The same applies to the events when Ann is cooking breakfast.
New events in the evenings when Ann is taking a bath.
New events by the pool with Alice is sunbathing next to Ann.
New events with Alice and Lisa.
New events with Alice in her room.
New dress-code by the pool.
Glamour v0.41
Here's what we added in 0.41:
New lessons with Lisa and Ann. Once you unlock them and Lisa invites Max for a lesson, there will be an option between old and new lessons so you still have the access to the old events.
New late night events with Ann and Kira in the living room.
Continuation of the Alice show. Max finally gets free to do what he wanted for so long!
New events when Max sleeps in Ann's room.
From now on, Max can sleep in Ann's room whenever he wants (after 22:00) even if Olivia isn't there. You'll need to unlock this in the story first, though.
New punishment. Alice got to be in charge in 0.40, but we didn't have the time to implement everything we wanted and had to push some punishment events to 0.41.
Glamour v0.40
Today is a good day to release 0.40. Not only it took us less than a month to make, it's our biggest update yet! It has 30% more text than our previous record, and it has about one and a half, maybe even two times more images than our average update.
So, here's what we added in Glamour 0.40:
Private punishments in Ann's room go out with an explosive finale, new punishments are in the house!
Now that Alice gets to punish Max, the rule of equivalent exchange dictates Max gets to punish Alice in a new and exciting way for smoking!
Late night show with Lisa and Alice gets even more fun! No spoilers here, go look it up in the game.
Surprise, surprise turns out Alice isn't the only smoker in the house.
Karen's visit to the villa will snowball into all kinds of events all over the house.
Max will finally see college, but not in the capacity you might expect.
What could be better than the late night events with Kira? That's right, the same events, but with Kira and Ann!
Deepening relationships with Ann leads to newer and even more exciting yoga events!
Ann's change in attitude will be clearly shown in her new early morning cooking attire.
A lot of fun content. We hope you like our update Glamour.
Glamour v0.39
Now here are the events we've added in Glamour 0.39:
New pool events when Ann and Lisa are sunbathing nearby. Alice will come up to Kate and offer to have some fun.
In the evenings, when no one is watching TV, Alice will offer to watch something.
Kate can now do yoga with Ann.
Playing as Max, you're seen a series of events during Alice's show. Now these events exist from Kate's perspective. This whole series of events only took us one day to implement from Kate's perspective, by the way.
Kate can give Ann massages in the evenings.
In all of these events, Kate will have a choice between encouraging or punishing Max's behavior. Once Max's authority goes up or down enough, it will unlock new punishment events. You won't get locked in your initial choice, at any point you can change your mind and influence Max's authority in the other way to trigger events you haven't seen.
You can check Max's authority parameter in the Villa quest, which will also track progress with every series of events of this update.
If Max unlocks the right to punish others
And this is what happens if he gets reprimanded all the time
Info
Glamour tries to download files after the start make sure you disconnect from the internet or block it via firewall!​
Saves are encrypted and won't work if shared, so please do not ask for save files!
Release date: 2023-05-31
Genre: 3DCG, Male Protagonist, Female Protagonist, Multiple Protagonist, School Setting, Corruption, Spanking, Masturbation, Voyeurism, Interracial, Real Porn, Sex Toys, Vaginal Sex, Handjob, Lesbian, Oral Sex, Exhibitionism
Censorship: No
Developer / Publisher: Dark Silver
Platform: Windows, Android
Version: 0.57 + CG images
Language: English, Russian
Size: 1.27 GB
Download Keep2Share
Download Turbobit
Download Hitfile