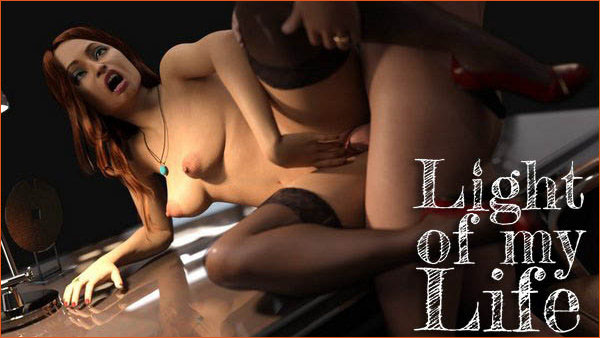 Light of my Life is an adult visual novel about loss and love. Aid and support your wards to help them overcome their hurts and fulfill their dreams, or let the pain you share drive you apart.

Changelog
Chapter 7 v0.7.3
NO NEW STORY CONTENT! If you played chapter 7 already, there's no need to download it this version.
Updated to ren'py 8.1.1 for all versions, hopefully bringing some performance improvements on low spec systems for all platforms. It does mean 32bit support is now well and truly out.
Added a new image to the main menu image carousel that unlocks at chapter 7.
Revised the main menu image carousel so it doesn't try to predict every unlocked set of images into cache at once anymore, which was causing stalls.
Updated the final big scene to have a regular and a streamlined version (with the player being offered the choice at the start of that scene)
Another batch of typos, fixed some continuity issues that no one noticed yet, and added a few lines of dialog to a certain couch talk in chapter 6
Chapter 7 v0.7.1
NO NEW STORY CONTENT! If you played chapter 7 already, there's no need to download it this version.
Reduce image cache size on desktops from 700 MB to 500 MB to help with crash reports for some users.
Reduce image cache size on Android to 300 MB (ren'py default) to help with Android players who are able to run the game but are having stability issues.
The above will probably not fix the issue some have reported about not getting past the load screen, that is still under investigation.
Removed 32 bit support for desktop users. Sorry if you're using that, I'm just getting too many reports about crashes and instability for that version. If you really want to use it, grab 0.7.0, and just drop the data folder from 0.7.1 into that, that should work, but if you're experiencing stability issues, note I can't support you with that.
Typos fixed and minor dialog changes.
Chapter 7 v0.7.0
Adds chapter 7.
Added about 10k images, bringing the grand total up to 23k2, for what that's worth.
Reworked the gallery system. Now based on save files instead of stripped, dialogless copies of the original scene. Original versions left intact for backwards compatibility.
Typos, continuity fixes, small bugs, and other minor changes to dialog to previous chapters.
Now runs on ren'py 7.6.1.
Because of this, after a load, you can't roll back to a point before the moment you saved, because of glitching images when you do.
Ren'py 7.6.0 introduced a warning when loading a save that comes from a different computer, and asks you to confirm loading. You won't see this with saves made in the last version of LomL, but you will see this with saves made in this version.
Known issues: Some phones seem to have trouble starting up the Android version. It doesn't seem to be related to model, make, architecture, age, or resources available on the phone, so it's likely settings or other apps, but I haven't been able to pinpoint the issue yet, and it's still under investigation.
Chapter 6
Chapter 6 added.
WTF why v6.2? Well chapter 5 was version 6.1 and that was kinda confusing. So now the version and chapter are in step again.
Added an option to suppress displaying actual numbers when you are informed a character's love or negative emotion has changed for better immersion (find it under Preferences->Relations).
Small fixes to previous chapters.
Higher compression rate for images on the Android version to keep within APK limits.
Special note for android users: Please note that due to the growing number of images in the game (over 11k) and the hard limit of 2GB for APK images, images in the Android version of Light of my Life had to be compressed more. That comes with some degradation of image quality, but I tried to find a quality setting that best matches individual screens to take the worst edge off.
Ch 5 v0.6.0
Adds chapter 5 (phew)
A whole bunch of typos fixed, and some text changes for style and consistency.
For Beta players: fixed some consistency errors in Macy/Denise locked out paths.
For Beta players: Updated gallery for chapter 5.
Ch.4 v0.5.0
Chapter 4 Light of my Life added
Ch.3 v0.4.2
No new story content! If you played chapter 3, there's little reason to download this (unless you want to play it again).
Considerable size reduction after compressing a large amount of images.
Whole lot of spelling and grammar errors fixed. Thanks to everyone who submitted them to me!
Fixed a choice flag not setting correctly causing some wrong dialogue between M+D.
M+D Gallery is now multi-page because the menu didn't really fit on a single screen anymore.
Ch.3 v0.4.0
Chapter 3 Light of my Life added.
Many renders updated and cleaned up.
Updated gallery.
Can now set nicknames and some additional character names in the change names option in preferences (unlocks as appropriate).
Lockout option under preferences lets you set how you want to handle the possibility of a Macy/Denise path lockout.
OK button added to text input on Android version to work around keyboard wonkyness.
Note: crashes reported with android version currently under investigation.
Ch.2 v0.3.3
No new story content! If you played chapter 2, there's little reason to download this (unless you want to play it again).
One (1) new render. It's a bonus image earlier posted in discord, available under the gallery, and it's called "naked pizza night". It has a tiny bit of animation added.
Simple gallery added. If you started your play-through with v0.2.0 through v0.3.2, it'll unlock all entries in the gallery when you finish (or already have finished) chapter 2. For a play-through started with any version, it'll also unlock entries as you view the relevant scene.
Fixed issues with missing image errors, reported by some players when the game is placed into a deep folder structure.
Fixed wayward lip piercing in some images.
Minor tweak to the alternative splash screen that displays on the main menu sometimes after finishing chapter 2, to use a wider range of expressions.
Ch.2 v0.3.2
No new story content! If you played chapter 2, there's no reason to download this (unless you want to play it again).
Several spelling and grammar fixes.
Reduce transparency of text-box and menu items to obscure the images less.
Add a hide button for tablet and phone (android).
Several minor tweaks to the end game summary.
Prevent skipping of floating text through mouse-click to prevent users accidentally skipping the next one too if there's several in a row.
Add second state to alternative splash screen that displays on the main menu sometimes if you did the pinky swear.
Ch.2 v0.3.0
Added chapter 2 Light of my Life.
Several renders touched up and spelling/grammar corrections to chapter 1.
Very minor rework of chapter 1 dialogues for clarity or to add some minor choices.
Fix Brooke lovepoints being awarded to Macies pool in chapter 1 (v0.2.x), and corrected both pools to compensate.
Alternative main menu screens for self-avowed supporters and after completing chapter 2.
Tutorial messages to alert the user they can change relationships and names from the preferences menu.
Release date: 2023-08-19
Genre: 3DCG, Male protagonist, Animated, Big ass, Big tits, Anal sex, Creampie, Handjob, Masturbation, Oral sex, Vaginal sex, Multiple endings, Romance, Incest, Humor
Censorship: No
Developer / Publisher: Naughty Road
Platform: Windows, Linux, Android
Version: Chapter 7 v0.7.3 + Guide
Language: English
Size: 7.32 GB / 1.96 GB (compressed)
Download Keep2Share
Download Turbobit
Download Hitfile