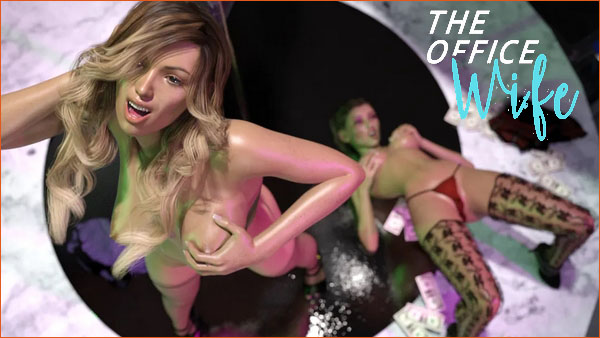 The Office Wife you play Stacy Jones, recently married and newly employed at a fairly typical office job. When a mysterious amulet in your hands, however, your life begins to radically change. Consumed by desires and impulses you've never felt before, you're soon wearing less and less to work and indulging not just your new husband, but just about any man who wishes to partake.

Changelog
Ren'Py Redux v0.90
New content (400+ new renders, 60+ new animations)
18 new gallery scenes
Improved scene playback
v0.90
The full contents are in the included Walkthrough file, but I can tell you that there are scenes for Michael, Donnie, Jessie, Andy, Stevie, Simon, Kabir, Tabitha, the dog(s), the subway bathroom, Jim and Marcus, and more. It's paced at about 4 days but unless you follow the Walkthrough precisely, it might take you more than that to hit all of the new scenes. There is a hard ending after you've reached three milestone enchantments (Michael, Polly Webcam, and Andy). This amounts to over 300 new renders and 64 new animations. If you haven't hit all of the scenes, just start over!
The game comes with a number of save slots paced throughout the game. Save slot 24 is where the new release begins. I've made several bug fixes to older events that corrected a number of game-breaking bugs. This means, however, that old saves won't work.
Ren'Py Redux v0.89.3
Added text box opacity slider
Corrected order of the enchantments screen
Hiding the interface now works for new stye dialog
Bug fixes for:
cannot complete your day off and get stuck in the park
cannot complete Dixon's flyers mission
cannot trigger Polly Webcam 3
cannot work with David after Polly Webcam 3
cannot leave the gym after a workout
cannot speak to Zack about IT guys
no events after subway ride with Andy
cannot end the day as Jason is missing from apartment
disappearing images on Zack changing scenes
multiple-angle video scenes now switch correctly
added missing choice images if you redo Knocker's flyers
added missing Morgan dialog image
gallery scene for Knocker's flyers fixed
Added enchantments list screen
Included missing Tonya and Tabitha follower images
Improved Android/small screen layouts
Added follower UI images to reflect when you have characters with you.
v0.89
Here's the latest version for Civic Leaders and higher! This release picks up right where the last one left off (use save slot 36) after Stacy obtained her new work outfit from Morgan. Needless to say, it's pretty ridiculous! In this release, you get new scenes with Donnie, the landlord's friends, Simon, Stevie, Zack, the dog, a new naked outside scene, and much more (including all scenes updated with the new outfit). I've also completely redone the gallery (and it's mostly completed) and created a new animated title screen. The gallery is now organized by Enchantment and gives you a hint for each one. This will help you better track your progress.
If you encounter any bugs, please let me know!
To use the patch file, you have to go to your game file and delete everything in the file title The Office Wife except for the folders, then copy everything in the patch file into that same folder and replace all. If you just copy it all without deleting the prior contents (minus the folders), then it won't copy correctly and the game won't work.
Without further ado…
v0.87
This release contains nearly 400 new renders (and 500+ new character images) and 42 new animations.
This release has a hard ending so you'll know when you reach it.
Additionally, I updated animations for the Jason sex scenes and the Doctor sex scenes to make them better.
v.0.83 Public Release
Finally! Here's V.0.83 Public Release! This one's been a long time coming and has a ton of new content and changes.
On top of the many scenes (a mostly-complete list can be found in the walkthrough), I made a number of bug fixes, changed the dialogue system, and updated the map for Stacy's apartment to better reflect the actual layout. Not counting the new character images, there are nearly 500 new renders and 39 new animations. Believe it not, this is only one part of the current story arch. There are many other pieces to put into place that will come in the next release.
There have also been several fixes added since the PRERELEASE last week. These include adding in missing image files, fixing the Simon scene (where it would repeat), fixing a few issues with Stacy's new apartment (which would cause her to spawn inside unpassable furniture), fixed the solo gym shower scene, added a cumshot scene to the final scene of the release (Doug Dinner), and several other minor changes. It should (knock on wood), be running pretty smoothly.
Save Slot 35 starts where the previous release left off (beware that installing the patch version will overwrite older saves) and the other saves are from various points throughout the game.
v0.80
256 new renders and 8 new animations, plus a number of small fixes.
v0.78 final
– fixed bug where if you started the Polly Webcam 2 scene but didn't complete it, you couldn't go home.
– fixed bug where if you entered Kitty's and started talking to patrons, you couldn't complete the scene
– fixed bug where Simon's new scene wasn't triggering
– fixed several other minor bugs and grammar/spelling errors.
v0.78
In this release you'll find nearly 400 new renders, 16 new animations, and some major storyline advancements. It comes with a Walkthrough file and saves. Save slot 39 begins where the last release ended. This release has as hard ending so you'll know it when you get there. If you miss something, you can go back to an old save and replay it, but you should be able to get the main content before the hard ending.
v0.66
A couple of notes about his release. It is a bit more linear than some other release simply because it is really the second part of the previous release, concluding Stacy and Jessie's revenge plot. The two halves were each too big to fit all in one release in any reasonable amount of time. This release has nearly 400 new images and 25 new animation clips.
I have included 10 save files starting at points throughout the game. Save slot 40 starts where the last update left off. You can reach Enchantment 48 and the release has a fixed ending. It is possible to reach the ending without getting all 48 enchantments. If that is the case, you can either replay from save slot 40 or wait for the next release.
v0.40
– Almost 200 new renders
– 14 new animations
– Updated The Office Wife all scenes with Stacy's new outfit
– Added a Hint system (just press "t" to toggle on and off)
– New scenes with Zack, Andy, Jim, Jason, Dixon, Marcus, Michael, and a few new characters
– Three new small easter egg scenes
Walkthrough The Office Wife (key choices, but feel free to explore around town):
Work out with Zack
Talk to Marcus at work in the morning
Have lunch with Andy
Go to Dixon's after work
Talk to Michael in the morning
Work with Jim Slater
Talk to Jason before lunch
Work out with Zack
The rest should play out automatically – end at Enchantment 33.
v0.2
playability changes to previous events The Office Wife
new doctor scene and animation
new Dixon's scene
outfit changes
new basement scene with Jason
new self pleasure scene at home
new scene in alley behind work
new scene with Nate and Jason (longest game scene to date)
Total 4 new animations and over 300 new renders
Release date: 2023-10-05
Genre: 3dcg, Female Protagonist, Exhibitionism, Gangbang, Big Tits, Big Ass, Vaginal Sex, NTR, Cheating, Handjob, Blowjob, Oral Sex, Group sex, Anal sex
Censorship: No
Developer / Publisher: J. S. Deacon
Platform: Windows, Android
Version: 0.90 / Ren'Py Redux 0.90
Language: English
Size: 5.83 GB / 1.38 GB (Ren'Py Redux)
Download Keep2Share
Download Turbobit
Download Hitfile