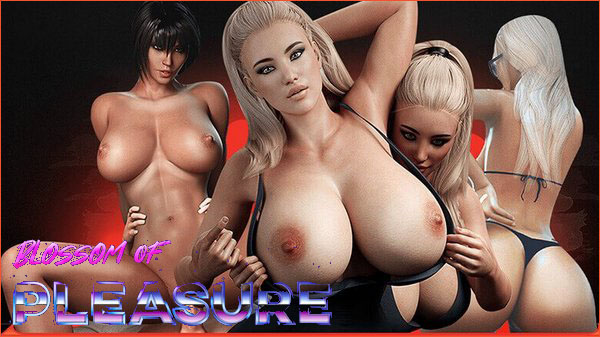 In this open world, men are the oppressed gender. Without their mistress, they have no free decision making power. However, it is up to you whether this will always be the case. As the chosen one, you must first unfold your powers and decide whether you will lead this world to ruin or usher in a new era. Get to know different personalities on your journey and experience a variety of fetishes in sex game Blossom of Pleasure.

Changelog
v0.351
Scenes
Scene with Adria in the dungeon (sub)
Sissification scene with Adria (Pegging) (sub/switcher)
Scene with Adria in a cat outfit (sub/switcher)
Misc
Reworked some dialogues
Reworked some images
Fixed the dungeon training for android
(It wasn't possible to use the tools with the touch control)
Added a feature to improve compatibility of older saves.
Added 2 new spots to the box training in the dungeon
Added 3 new spots to the chair training in the dungeon
Upgraded engine version
Added Poop Spray – Upsets others
Boo now appears in the evening, not at night.
v0.34
Scenes:
Date with Cynthia, with multiple outcomes (all paths)
Follow up date with Cynthia and aftermath (all paths)
Cynthia can be put into the dungeon (sub)
You can serve Cynthia (sub)
Misc:
New design for Cynthia
Added filters to the gallery
Changed the design of the gallery
Added frames to the worldmap navigation icons
Added customization for the worldmap navigation icons
New icons for the times of day
v0.33
Scenes:
Help Riccarda clean the kitchen (Sub/Switcher)
Cum on Riccarda's panties (Sub/Switcher)
You can clean the pool for Riccarda (Sub/Switcher)
Massage Riccarda in the living room (Switcher)
Carla joins the mansion (Dom/Switcher)
Riccarda expects you to make profit in the dungeon (Sub)
This will lead to multiple scenes in the future
Added three scenes with Adria as a start
Added scenes to gallery
The algorithm which decides the scenes for the box punishment now prefers not seen scenes
Misc:
Added hall of fame
Side messages will use the same style as the dialog box
You can now customize the talk wheel, action buttons and tint the dialog box
You can modify your smartphone case
Added new smartphone backgrounds
Added a custom screen if an error occurs
Reduced the price to build the dungeon to 25 (Previous 100)
Reduced the price of the first two researches in the cafe management down to 5 (Previous 10)
Alternative path for chapter one. (Community feedback)
This includes mutliple choices for various scenes
Alternative dialogs
Your decisions have an effect on later events
Added text speed to settings
Added instructions to the cafe management
Some hints have been changed to be more precise
Blossom of Pleasure v0.32
Scenes
Dungeon Karen Chair
Dungeon Karen Box
Dungeon Sophia Spanking (Sub-Path)
Dungeon Sophia Chair (Sub-Path)
Dungeon Sophia Box (Sub-Path)
Dungeon build scene with Riccarda (Sub-Path)
Throat fuck scene with Lara (Dom-Path, Switcher-Path)
Humiliating scene with Karen (Dom-Path)
Story background with Karen (Switcher-Path)
Added scenes to gallery
You can now refuse to drink the toilet water (Scene with Karen)(Community Feedback)
Addded choices for hospital treatmen1,2 and 3. You have the option to agree/disagree to the treatment. (Community Feedback)
Mansion
New location: the mansion – can be bought in Dom-Path, Switcher-Path
Karen is used as a housekeeper
Lara joins you in the mansion
Lara introduces the garage (Dom-Path, Switcher-Path)
You can buy 100 vehicles (cars, bikes, …) (Driving animation in the next releases)
Mansion has 8 rooms + garage + dungeon
Dungeon Jobs
Subordinates can be put into jobs
They can be trained
They earn money for you
They find equipment
Thousands of items in various combinations are available
There are unique items with special effects
You can collect sets to maximize your subordinates
Misc
Updated engine to the latest version 8.0.3
Dungeon is now available for (dom, sub, switcher)
New loading screen
New title screen
Optimized the idle calculations for the cafe management
You can choose the number format: American or European
Added option to change the button hover sound volume
Chenged code for easier translation
Added guide in discord how to use modding/translation patch
Added support for cyrillic letters
Menu items are now in the same style as the dialog box
Blossom of Pleasure v0.30
Dom Path
Default scene with Karen in the kitchen (Evening)
Default scene with Karen in the dining room (Night)
Karen prepares dinner for you. She is not a good cook. It's best to discipline her. (Evening / Dining)
Sub Path
Cafe management is now available in this path.
Dungeon
You can train women in your dungeon (dominant path)
First Person to train is Karen
Spanking
Spank her with different tools. Hear her scream in pain!
I've created over 350 bruises for the spanking.
You will see how her skins is getting red and blue
Graveyard
Added new location to the world map
Graveyard can be found during the night. You have to find it in the forests. (It is hidden)
You will be rewarded with more APs
There is a small minigame. (It will get easier the more often you fail.)
Items
Added new item in the store that permanently increases your AP by +1
Management Minigame
Balancing – prices for new devices increase at a lower rate and are capped at 100
Bugfixes
Hospital Minigame
You can skip the minigame after you've failed at least one time
Overlay
Added prestige to smartphone. (It's easier to track your prestige)
Added icon for money (smartphone).
Cheats
Added cheat menu. Can be found at the graveyard after you've activate it with the secret code.
Unlimeted energy
Add money
Increase stats
Inc. / dec. mood
Unlock gallery
v0.29
Scenes
Movie Night continues (animation)
Secret room (animation)
3rd path selectable
Scene with Carla – go on a date with her (2 animations)
Management Minigame
Added first management minigame
You will establish your own cafe empire
With this comes a new currency – prestige
Misc
Updated missing side image expressions for MC
Adjusted random factors for scenes (they will occur more frequently)
Improved performance
Hints
Specified hints and added more
Added indicator and filter for main and side quests to the hints
Removed hints from smartphone because it was redundant (big bulb)
Blossom of Pleasure v0.27
Post processed about 3500 images
Added special effects
Added hint system to main ui (light bulb)
Scene with Karen – Humiliation
Scene with Sophia – Choose your destiny (first out of three)
Scene with Karen – Dominate her
New house with three locations
Blossom of Pleasure v0.26
Default scene with Adria in the evening
Default scene with Riccarda at noon
Footjob from Lara in the morning in her room (with animation)
Lara pussy rubbing you in the morning in her room (with animation)
Riccarda helps you in the morning (with animation)
Movie night with Riccarda
Adria bought clothes for you (Sissification)
Blossom of Pleasure v0.25
Scenes
gardening:
eggplant scene
corn scene
hospital:
treatment 2
treatment 3
with minigame
failure and success result
living room evening:
animated scene with Riccarda (Handjob)
needs to be in general good mood
the Box:
Riccarda pee
Adria pee
bedroom Riccarda:
alternative scene (when she jerks you off in the night)
you have to behave in order to get it
Fetishes
syringe
sounding
Release date: 2023-09-02
Genre: 3DCG, Male protagonist, Big Tits, Incest, Milf, Teasing, Masturbation, Humiliation, Female Domination, Mind control, Male Domination, Big Ass, Oral Sex, Vaginal Sex
Censorship: No
Developer / Publisher: Bildur
Platform: Windows, Linux, Android
Version: 0.351 + Inc patch
Language: English
Size: 3.1 GB / 994 MB (Official compressed)
Download Keep2Share
Download Turbobit
Download Hitfile