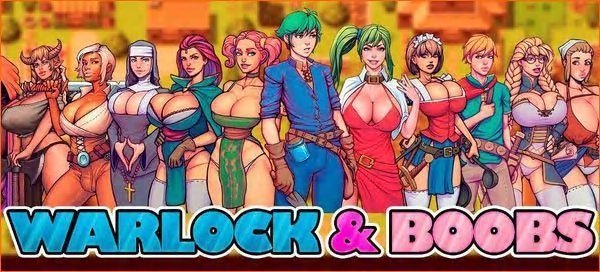 Warlock and Boobs – Krowly always wanted to learn magic, hunt for monster girls, and most of all, get laid. Help guide Krowley in fulfilling his dreams!​

Changelog
v0.420.0.2
What is new:
New quest. Talk to Great Paladin using "chat" option after the quest "Nun's work" is complete. You don't need to finish the quest "Wonders of nipplefucking" to start this quest, but it's need to finish it to complete the new quest. Some of the new scenes can be seen during the quest, so I recommend starting checking out the update from the quest 🙂
New scenes:
Fourboobed elf vaginal/anal scene. Can be unlocked during new quest, and later triggered by talking with her
Double titfuck with Astra and Alice. Talk to them in Fina's mansion at Thursday morning if there is no rain. You need 30+ with Astra and the vaginal scene with Alice should be triggered at least once to trigger this titfuck scene
Fairyjob scene. Old scene with fairies got new illustrations, and the old illustrations got new more matching text part. So it's new scene, but I switched the illustrations between new and old one, so they will match better. Loose to fairies to check out new illustrations and win to see new text for the titfuck scene.
A scene with battle nun and an orc at Saturday night near the monastery. Without an illustration for now.
Updated Scenes:
Scene were Eric is fapping got an illustration
Scene with Pregnant Snake girl got variant without Eric.
New pictures:
Fourboobed elf scene. 8 variants
Double titfuck scene with Astra and Alice. 2 variants
Fairyjob scene. 2 variants
Eric's fapping illustrations. Made from existing ones. A lot of variants.
v0.413.0.2
This update is focused mostly on the new and updated scenes, new illustrations.
Battle animation speed setting added in the settings menu. Will help you to speed up the battles.
New scenes:
Jill's facial. Can be triggered via flirt menu
Krowly spa group fun. Can be triggered when male villagers are in the spa (Wednesday day time). Has 50 chance that there will be no dancer, and Krowly can fill in. You can save before entering the spa if you want to reroll the chance
Nipplefuck with golem nun. Accessible via flirt menu if the golem has nipples upgrade
Sandra titfuck. Can be randomly triggered when you talk to her during tea party
Goblin Shaman rides Krowly. Added text and variants of the goblin rider illustrations.
Updated Scenes:
Jimm fucks succubus. Added repainted illustrations, added option to fap.
Goblin girl rides Krowly. Added illustrations, made into a separate scene.
Statue in the church fapping. Added illustrations
New pictures:
Jill's facial. 2 variants
Krowly spa group fun. 4 variants
Golem nun nipplefuck. 12 variants
Dirt cave battle background
Sandra titfuck. 2 variants
Sandra. Messy variants of character illustration. 2 variants
Goblin rider. 8 variants, including shaman
Statue in the church. 2 variants
Updated pictures:
Jimm fucks succubus. 8 variants. Repainted, plus added 2 extra variants
Small things:
nipplefuck added to the sex statistics
Hotfix:
It just makes some changes in scripts to maybe solve some issues in Wine on Linux, so you can safely skip this one
It fixes being stuck in the counter in the spa after sex scene with the spa manager, and adds some changes to game scripts
v0.412.0.1
Text speed setting added in the settings menu. Set to "instant" if you don't want to wait till the text appear in the dialogues.
A ring that applies "reading of the mind" status. Lets you see relationship levels without using the spell. Can be acquired during new quest.
New quest. Talk to Great Paladin after "Melissa's secret" quest is completed
New scenes:
Astra visits spa. Talk to her at Saturday morning. Need 30+ relationship with her, and the spa quest should be finished.
Blowtitfuck scene with Mother Sabrina. Unlocked during the quest, after that accessible via flirt menu. Requires 30+ relationship points
Great Paladin appreciation scene. Unlocked after the new quest, later accessible via flirt menu
Updated Scenes:
Agnieszka and Jason, added illustration, Including inflation variant
New pictures:
Agnieszka and Jason, +3 variants
Astra and elves, +3 variants
Mother Sabrina blowtitfuck, +2 variants
Great Paladin bukakke, 3 variants total
Great Paladin appreciation, 7 variants total
v0.405
New quest. Talk to Melissa when Brother Volt is snooping around in her tower to start it.
New scenes:
Busty Elf oral. During the hunt or after defeating a Busty Elf in the elven forest
Melissa oral. After completing her new quest and after that via flirt menu.
Jill and Astra oral. Talk to them when Jill is massaging Astra's butt during sunbathing event. Requires 200+ lust and 30+ relationship points with both
Golem Nun oral. Give her lips an upgrade and test them out at night. The illustrations are placeholder, I think I will replace them in the future
miniscene with stone boobs. No illustration
New pictures:
Busty Elf oral. 6 variants
Melissa oral. 3 variants
Golem upgrades. 26 variants
Jill and Astra oral. 3 variants
Golem oral. 2 variants
Small things:
new decoration elements in the dungeon
Warlock and Boobs v0.403
This update is mostly focused on scenes.
Drinking event with orc chief Mushra now has alternative ending with Krowly being on top.
Option to invite Alice in the spa at Monday day time. Has a variant of her bathing scene and reactions on Krowly's getting massage from the elves
New scenes:
Jill's oral scene. Can be triggered if you have 200 or more lust when you give her the cream during the sunbathing event at the morning
Alice's butt can be seen at Sunday morning in her house
Krowly fucking Mushra, the orc chief. As a part of the drinking event with her. You need to find a way to over-drink her
Threesome scene with Krowly, a pregnant snake girl and Eric. During the hunt in two dungeons. Also has a variant for Kaaren, without Eric.
Updated scenes:
Snake girl's oral scene. Updated illustration, plus pregnant snake girl's variant
New pictures:
Jill's oral scene. 2 variants
Alice's butt
Krowly fucking Mushra. 2 variants
Snakegirl threesome. 24 variants
Updated pictures:
Snake girl's oral scene. 4 variants
Alice bathing. Added 2 variants for the spa
Alice's buttfuck. Added 2 variants for the spa
Small things:
Small changes to the start of the game. The game asks less questions, but I added a suggestions to check content settings in the menu.
Small changes to sex stats window
Fixes:
event with Jaina's training should be working right now
Warlock and Boobs v0.402.1
New scenes:
Sam's buttfuck. Dance with her I the tavern or catch her naked at night. Requires 50+ relationship points. Has inflation option
Jenna's boobs grabbing scene. During the milk event, at Thursday day time
Repeatable variant of the spitroast scene with two orcs (Orc's tent, Wednesday night, after Eric's quest is completed)
Mini scene, Orc Chief and Mabel (Tuesday night). No illustration for now
Updated scenes:
All Sam's scenes – added inflation variant
New pictures:
Sam's buttfuck. 12 variants
Sam's inflation. 24 variants
Jenna's boobs event. 4 variants
Orc Chief character illustration.
Small things:
Sam's reaction to the scene asseating scene with jaina
Additional Info
Press F5 to toggle full screen.
Press F6 to change window size.
Press W to show/hide Krowly's picture.
Release date: 2023-09-13
Genre: 2DCG, Fantasy, Male Protagonist, Monster girl, Adventure, Combat, Futa, Big tits, Big ass, Anal sex, Animated, Incest, Masturbation, Oral sex, Religion, Titfuck, Vaginal sex
Censorship: No
Developer / Publisher: boobsgames
Platform: Windows
Version: 0.420.0.2
Language: English, Russian
Size: 1.17 GB
Download Keep2Share
Download Turbobit
Download Hitfile